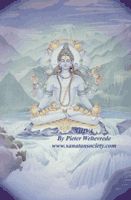 Summary: Shiva is the destroyer of the world. Shiva is a Hindu god (many people mistakenly think that Shiva is an ancient Egyptian Goddess). Shiva is one of three main Hindu deities, Brahma (the creator), Vishnu (the preserver), and Shiva (the destroyer).
names:
Hindu name: Shiva
(NOTE: In addition to native variations by locality or over time, there are often several possible transliterations into the Roman alphabet used for English.)
basic information:
Shiva represents destruction and death, but also represents the end of bad habits and other negative behavior.
Shiva is the god of self-control and yoga.
Shiva's Dance of Bliss represents both the destruction and creation of the universe and the cycle of birth, death, and rebirth. Shiva's Dance of Bliss protects the welfare of the world. Shiva is also known as the King of Dance.
Shiva's relations:
Shiva's first wife was Sati and his second wife was Parvati (also known as Uma, Gauri, Durga, Kali, and Shakti). Shiva's sons were Ganesha and Kartikeya. Shiva lives on Mount Kailasa in the Himalayas.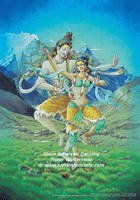 magickal information and correspondences:
herbs associated with Shiva:
Shiva is typically depicted with half-closed eyelids, under the influence of cannabis.
other:
religious title certificate

Get a beautiful certificate declaring that you are a guru, priestess, priest, high priestess, high priest, witch, or shaman of Shiva. This is a real religious certificate meeting government standards for conducting marriages and other ceremonies.
external links:
If you follow any of the links offered on this web site, no spell begging. Especially no love spell begging.
If you have a Shiva-related web page, please send the URL to Milo. Please indicate if there is a picture on your web page.