Fish was the primary food in the ancient Egyptian (Kemetic) diet. Onions were extremely popular and used extensively in cooking. Beer was extremely popular among the ancient Egyptians.
"If you are what you eat and you don't know what you're eating, do you know who you are?"
—Claude Fischler
You can learn about growing food and other plants in the article about Witchcraft gardens.
In ancient cultures around the world, to eat any life was to consume the divine. The planting and tending of food was conducted with magick ritual. The gathering and harvesting of food was accompanied by ritual and prayers both to the divine earth and to the divine sky. Ritual feasts celebrated the divine and the magick of the universe.
Modern Witches renew their spirit and the spirit of their family and guests with magickally blessed food.
Foods have a long traditional use in Witchcraft. When using food in a spell, visualize the nature of the food passing its energy into the spell. For examples of spells using food see Aphrodite New Moon love spell, Hecate black candle love spell, or Isis Full Moon love spell.







"Let food be your medicine."
—Hippocrates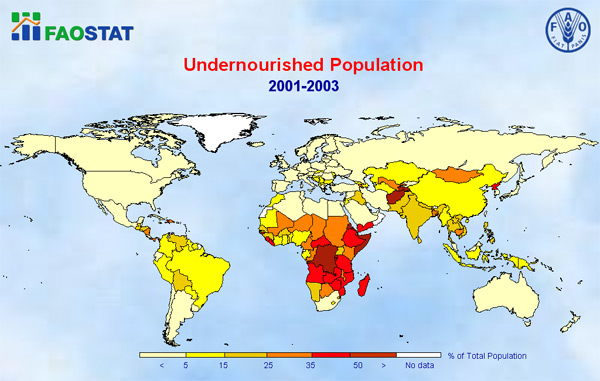 world hunger map
2001-2003
Food and Agriculture Organization of the United Nations