Onion is a vegetable. The oinion was one of the most popular foods in ancient Egypt (Kemet).
Scallion is a young onion before the development of a bulb.
botanical information:
Botanical name: Allium cepa
Common name: onion
French name: oignon
Use the botanical name when ordering seeds (bulbs, etc.) or when looking up information in the library. Common names vary by nation, culture, and region, and sometimes the same common name is applied to different plants.
origin:
Origin: Asia
history:
History: Onions and garlic were fed to 100,000 laborers (not slaves) who worked on the Great Pyramid of Khufu (Cheops).
Some ancient Egyptian temples partially paid their workers with onions.
Onion was one of the ingredients mentioned in the Eber's Papyrus. The Eber's Papyrus (from between 1600 B.C.E. and 1550 B.C.E.), was discovered by German Egyptologist Georg Ebers in 1874 C.E. The Eber's Papyrus is the oldest known complete medical textbook in existence. Most scholars believe that it is copy of a much earlier text, probably from around 3100 B.C.E. The Eber's Papyrus includes information on surgery and internal medicine, including a list of more than 800 drugs.
part used:
Part Used: Entire young plant except rootlets, bulb of mature plant.
Information courtesy of Mountain Rose Herbs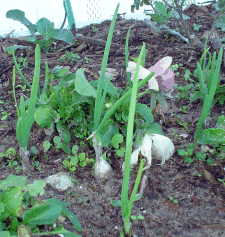 Onions in the Salad Garden
(those are collards in the upper left corner)
courtesy of Green Earth Ministries
(a Christian cannabis religion)
nutritional information:
Onions are a food that helps nourish the kidneys.
Onions are a food that increases sexual energy and enhances fertility.
nutritional value per 100 grams:
Calories: 28-36 calories
Proteins: 1 gram
Fat: trace
Carbohydrates: 7 grams
high in calcium
high in folic acid
high in potassium
high in selenium
high in sulfur
See also Chinese herbalism below for Chinese gender and Chinese flavor.
selection:
Onion has the number one (1) lowest pesticide load of 45 common fruits and vegetables studied in 2006 by the Environmental Working Group and is therefore a food that can be purchased conventionally-grown when organic isn"t available. The EWA explains, "While washing and rinsing fresh produce may reduce levels of some pesticides, it does not eliminate them. Peeling also reduces exposures, but valuable nutrients often go down the drain with the peel. The best option is to eat a varied diet, wash all produce, and choose organic when possible to reduce exposure to potentially harmful chemicals."
According to USDA and FDA tests on commercially grown foods collected between 2000 and 2005, onion has a 0.2% (percentage) of samples tested with detectable pesticides, a 0.0% (percentage) of samples with two or more pesticides, an 0.0 average number of pesticides found in a sample, an average of 0.000 parts per million of all pesticides found, and 2 different pesticides found in use growing ASDF. These toxic pesticides don't apply to organic foods.
storage:
Storage: Onions can safely be stored for more than a week.






magickal correspondences and uses:
Magical Uses

Protection, Exorcism, Healing, Money, prophetic dreams, lust



information courtesy of


essential oil:
Safety Information: Onion essential oil (Allium cepa) is hazardous and should not be used in aromatherapy, ingested, or come in contact with the skin.
Chinese herbalism:
Chinese gender: yang (warm)
Chinese flavor: pungent
These Chinese gender and flavor also apply to scallions.
cautions and contraindications:
Cautions and contraindications: Onion is believed to be safe.
Essential oil warning: Onion essential oil (Allium cepa) is hazardous and should not be used in aromatherapy, ingested, or come in contact with the skin.
Toxic to animals: The American Society for the Prevention of Cruelty to Animals (ASPCA) Animal Poison Control Center has determined that onion "has been reported as having systemic effects on animals and/or intense effects on the gastrointestinal tract." —ASPCA