Khufu was the second Pharaoh of the fourth (4th) Dynasty. The Greeks called him Cheops.
4th dynasty 2589 - 2566 B.C.E., son of Pharaoh Sneferu and Queen Hetepheres, father of Djedefra (his successor), Khafra, other sons, and daughter Queen Hetepheres II
See list of Pharaohs.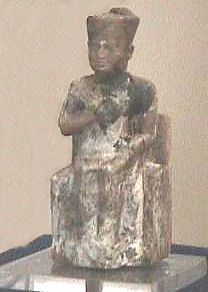 picture courtesy of
John Moore's the Ancient Egyptians were Black


hieroglyph cartouche for Khufu
Khufu (pronounced kew-foo), called Cheops (pronounced key-ops) by the Greek, was the second pharaoh of the Fourth Dynasty, ruled for 23 years, and was the builder of the first of the Great Pyramids of Giza (the only Seven Wonders of the Ancient World that is still standing).
The Turin Papyrus states that Khufu came to power in his twenties and was remembered in folk history as cruel and ruthless. Manetho claims Khufu ruled for 65 years, while Herodotus claimed that Khufu ruled for 50 years. The funerary cult for Khufu lasted until the 26th Dynasty, the last native Egyptian royal dynasty (almost, 2,000 years after his death).
Only one miniature statuette of Khufu has survived to modern times (pictured above).