Adzuki bean is a food and a plant. A small, dried, russet-colored bean with a sweet flavor. The plant is an annual vine.
botanical information:
Botanical name: Paseolus angularis
Common name: adzuki bean, aduki beans, azuki beans
Use the botanical name when ordering seeds (bulbs, etc.) or when looking up information in the library. Common names vary by nation, culture, and region, and sometimes the same common name is applied to different plants.
Family: Fabaceae (bean)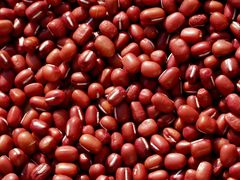 origin:
Origin: Himalayas
history:
History: First domesticated in the Himalayas. Adzuki beans were cultivated in China and Korea before 1,000 B.C.E. Imported to Japan, where it is now the second most popular legume after soybean. In Japanese, the "small bean" is adzuki and the "large bean" is soy.
nutritional information:
Aduki beans are a food that helps nourish the kidneys.
Aduki beans are a food that increases sexual energy and enhances fertility.
nutritional value per 1 cup dried cooked adzuki beans:
Calories: 294 calories
Proteins: 17 grams
Fat: trace
Cholesterol: 0 milligrams
Carbohydrates: 57 grams
Fiber: 17 grams
Sodium: 18 milligrams
See also Chinese herbalism below for Chinese gender and Chinese flavor.
preparation:
In East Asian cuisine the azuki bean is usually eaten as a red bean paste (made by boiling adzuki beans and sugar, sometimes with chestnut). In Japanese cuisine azuki beanm sugar, lotus seeds, and orange peel are boiled to create a red bean soup.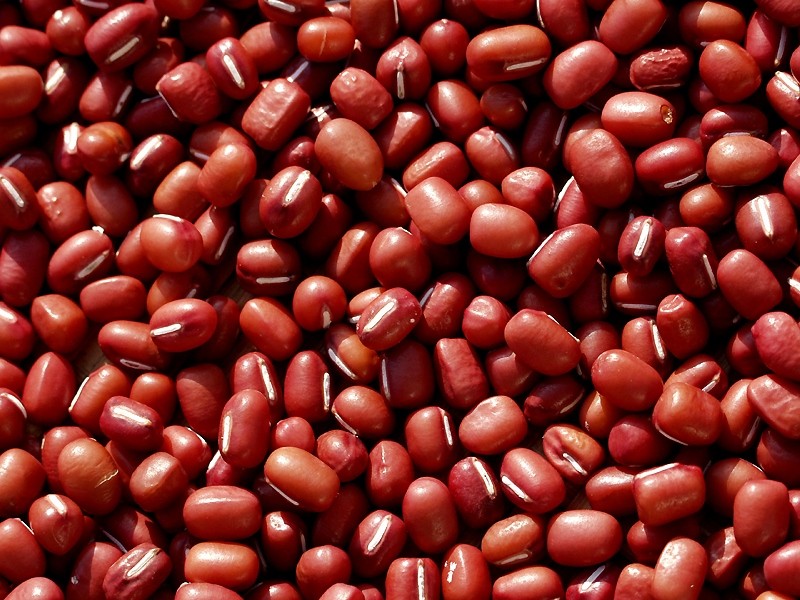 picture from Japanese version of Wikipedia
ritual uses:
Ritual uses: In Japan, rice with azuki beans is traditionally cooked for auspicious occassions.
Chinese herbalism:
Chinese gender: neutral