Walnuts are nuts that come from the walnut tree.
botanical information:
Botanical name: Juglans spp.
Common name: walnut
Use the botanical name when ordering seeds (bulbs, etc.) or when looking up information in the library. Common names vary by nation, culture, and region, and sometimes the same common name is applied to different plants.
The English word walnut comes from the German wallnuss or Welsche Nuss (meaning foreign nut).
Family: Juglandaceae
origin:
Origin: Persia.
nutritional information:
Walnuts are a protein-rich food and an important source of amino acids.
Walnuts are a source of calcium, copper, iron, and zinc.
Walnuts are one of the best plant sources of omega-3 fatty acids. Omega-3 fatty acids help prevent obesity, diabetes, and heart disease.
One ounce of dried black walnuts has 1.0 milligrams of zinc, which is 6% of the U.S. Recommended Daily Value, according to the U.S. National Institutes of Health.
Walnuts help keep the liver clean and healthy.
Walnuts are a food that helps nourish the kidneys.
preparation:
You can put a selection of nuts along with a little bit of olive oil into a blender and make fresh nut butter. Nut butter on bread (or in pita pockets) is a healthy "on-the-go" snack.
deities associated with walnut:
The Romans believed that in the Golden Age humans ate acorns and the gods ate walnuts. Walnuts are therefore called Jupiter's nuts, or Juglans or Jovis glans.
health care uses:
Health Notice: Attempting to be an amateur doctor is potentially dangerous to your health. This web page is not professional medical advice. Nothing on this website should be considered as a substitute or replacement for professional medical advice. Persons should seek the advice of qualified health providers. Self-medication should not be used as a substitute for professional medical care. Please confirm all self-medication with your doctor or health care professional. See the article on healing for recommended healers.
Ayurvedic herbalism:
Walnuts are an excellent food for those who have Vata constitution or those on an anti-Vata diet (high degree for reducing Vata).
For more information, see the article on Ayurvedic medicine.
cautions and contraindications:
Cautions and contraindications: Some persons have severe (even deadly) reactions to walnuts. Even cooking different meals in the same kitchen could result in a reaction.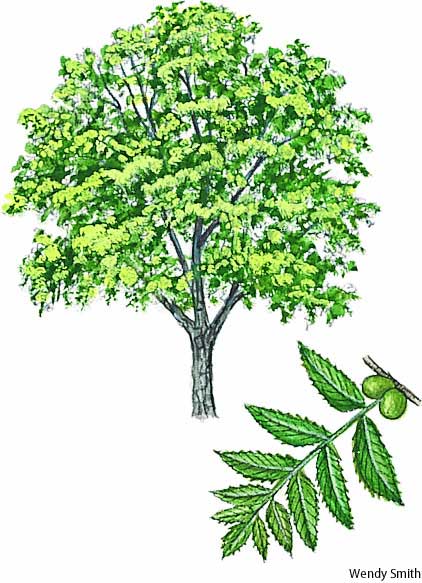 See also nuts, foods, and trees.