The first exercise in the Goddess Health and Diet Plan is the bend and reach. The bend and touch is one of the most basic stretching exercises. There are more advanced versions of this exercise that you may want to use later in the Goddess Plan.
Stand up straight in a relaxed erect position, with your feet about shoulder width apart. Lift your arms over your head. Bend foward to touch the floor or ground between your feet. Return to the starting position. Each return to the starting position counts as one repetition of the bend and reach.
You can optionally bend backwards at the top of the exercise. You can optionally reach between your legs and touch the ground behind yourself when bent over.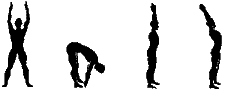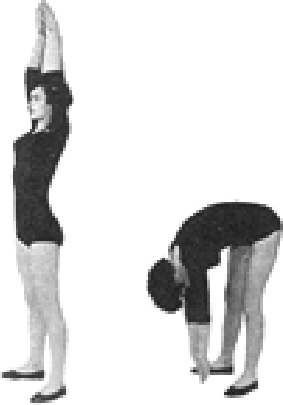 If you have not been exercising, only attempt one repetition of the bend and reach exercise. You will eventually want to build up to between 10 and 30 repetitions of the bend and reach exercise. Do not increase your number of repetitions by more than one additional repetition per day. it is important to avoid straining or damaging your muscles by over vigorous physical activity beyond your current abilities. it is essential to build up any new exercise slowly over days and weeks.
Do not lock your knees straight. Keep your knees loose. On the other hand, do not go into deep knee bends. Both extremes are harmful to delicate tissues in your knees and locking your knees can block blood flow, resulting in fainting.
For those who are new to exercise, especially if overweight, do not worry if you can't actually touch the ground yet. Bend down as far as you can comfortably bend. It is important to avoid any pain. This exercise should never hurt. Over a week or two build up to three to five repetitions of this exercise without worring about actually reaching the floor. Once you have reached three to five repetitions, stop increasing the number of repetitions and work on getting closer to the floor. Again, do not stretch beyond your abilities (because that can damage muscle, ligaments, and other tissues). Take as long as you need to build up to the point where you can actually touch the floor. Once you have successfully touched the floor, you can start increasing the number of repetitions (not more than one new rep a day).
Move slowly and deliberately. You are attempting to gently stretch and warm up your muscles and soft tissues in preparation for other exercises. Fast movements defeat the purpose of gentle stretching. Fast movements tear and rip rather than stretch. It is tempting to move quickly, as the momentum will jerk your body into a greater reach with more ease, but this temptation must be avoided to prevent serious damage.
Any exercise program requires a period of warm up and stretching exercises before attempting more vigorous exercise. Jumping right into vigorous exercise will damage muscles, ligaments, and other tissues.
In addition to gently stretching muscles and ligaments, the bend and reach exercise also helps keep the back bone flexible. A flexible back is an essential key to good health. If yourback is stiff and inflexible, it will interfere with free movement and proper exercise, as well as block kundalini and the flow of energy through your chakras. it is impossible to be fully healthy and fit without a flexible spine.
See also: exercise