Pharos is a small island in the harbor of Alexandria and home of one of the Seven Wonders of the ancient world.
Sostratus built a great lighthouse on the island of Pharos (the Lighthouse of Alexandria). The lighthouse was made of white marble and was between 440 and five hundred (500) feet tall. it was the tallest occupied building in the world until the advent of modern skyscrapers (the Great Pyramids of Giza were taller). The many rooms were used by various officials.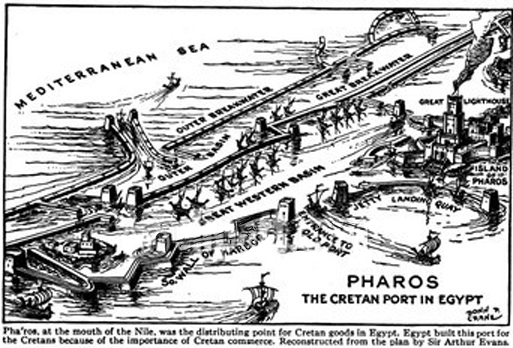 Pharos, at the mouth of the Nile, was the distributing point for Cretan goods in Egypt. Egypt built this port for the Cretans because of the importance of Cretan commerce. Reconstructed from the plan by Sir Arthur Evans.
The Lighthouse at Alexandria lasted for 1,700 years before a series of earthquakes in the 14th century toppled it into the sea.
A giant lantern was at the top of the lighthouse used bpolished brass or bronze mirrors to aim the sun light during the day and to aim a flame at night. The original fuel source is unknown but is unlikely to have been wood because wood was in short supply and too valuable to burn in large quantities. The beam of light was visible at least three miles out to sea and some legends claimed that it was so bright that it could burn ships 30 miles out to sea.