European mistletoe is a plant and an herb.
botanical information:
Botanical name: Viscum album
Common name: European mistletoe, mistletoe
Use the botanical name when ordering seeds (bulbs, etc.) or when looking up information in the library. Common names vary by nation, culture, and region, and sometimes the same common name is applied to different plants.

astrological correspondences:
Astrological planet: Sun


magickal correspondences and uses:
Month: Mistletoe is associated with December.

Solar spells: Mistletoe (as an herb) may be used in as an ingredient or substitute for magick spells and formulas related to solar matters (healing, illumination, magickal power, physical energy, protection, success, and putting an end to legal matters). Be careful about substitutions for preparations that will be ingested or come in contact with the skin. These substitutions do not apply to medical uses. See the article on the Sun for a list of herbal substitutes for mistletoe.
Magickal substitutions: Rosemary usually may be safely substituted for any herb in magick spells and rituals. Roses may safely be substituted for any flower.
Magical Uses

get back a love who has deserted you, solve problems. protection, fertility, healing and psychic powers, fidelity, love. Wear as a protective amulet. A good anti-lightning charm. Extinguishes fires. Protection, Love, Hunting, Fertility, Health, Exorcism



information courtesy of


ancient myths and beliefs:
See Norse mistletoe myth.
Some herbs may be poisonious under some conditions. Exercise appropriate care.
Wild gathering: Avoid wild gathering. Some plants are endangered species. Some plants can be toxic just by touch. Even experts can make deadly misidentifications of wild plants. Please grow your own herbs in your own goddess garden (or window boxes).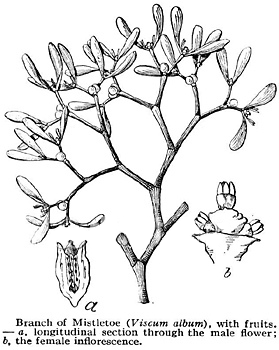 See also: American mistletoe and herbs.