Nasturtium is also called Indian cress, Mexican cress, and Peruvian cress. The name means nose-twister.
botanical information:
Botanical name: Tropaeolum majus also T. peregrinum and T. speciosum
Common name: nasturtium
Use the botanical name when ordering seeds (bulbs, etc.) or when looking up information in the library. Common names vary by nation, culture, and region, and sometimes the same common name is applied to different plants.
Nasturtium flowers are cream, crimson, orange, red, and yellow.
Nasturtiums are a great flower for beginning gardeners.
astrological correspondences:
Astrological planet: Neptune

magickal correspondences and uses:
Gender: feminine (traditional western European magickal gender)
Western element: air
Potpourri: Use nasturtium flower petals in magickal potpourris for spells regarding: aspiration, strong beliefs, ethics, festivity
Nasturtium flowers, leaves, and seed pods are edible. Nasturtium flowers and leaves can be added to salads. nasturtium flowers can be used as a garnish. Nasturtium has ten (10) times the vitamin C of lettuce. Nasturtium seeds can be ground in a pepper mill and used as a pepper substitute. Green nasturtium seed pods can be pickled (can be used as a substitute for capers). The tuber of mashua (T. tuberosum) is also edible and is a major food source in parts of the Andes.
Magickal substitutions: Rosemary usually may be safely substituted for any herb in magick spells and rituals. Roses may safely be substituted for any flower.

Wild gathering: Avoid wild gathering. Some plants are endangered species. Some plants can be toxic just by touch. Even experts can make deadly misidentifications of wild plants. Please grow your own herbs in your own goddess garden (or window boxes).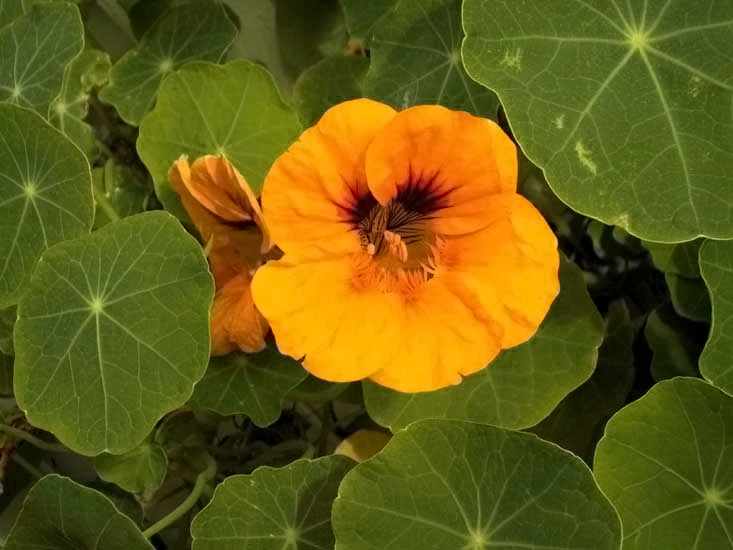 See also: herbs