Pansy is a plant and an herb.
botanical information:
Botanical name: Viola tricolor
Common name: pansy
Use the botanical name when ordering seeds (bulbs, etc.) or when looking up information in the library. Common names vary by nation, culture, and region, and sometimes the same common name is applied to different plants.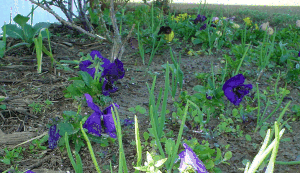 Long view of the Salad Garden
(Yes, the Pansies are edible too!)
courtesy of Green Earth Ministries
(a Christian cannabis religion)
astrological correspondences:
Astrological planet: Saturn


magickal correspondences and uses:
Perfumes: Pansy perfume corresponds with saturday and is a good perfume for saturdays.
Gender: feminine (traditional western European magickal gender)
Western element: water
Potpourri: Use pansy flower petals in magickal potpourris for spells regarding: divination, love, weather magick

Saturn spells: Pansy (as an herb) may be used in as an ingredient or substitute for magick spells and formulas related to Saturn matters (endings, exorcism, longevity, protection, purification, and vision). Be careful about substitutions for preparations that will be ingested or come in contact with the skin. These substitutions do not apply to medical uses. See the article on Saturn for a list of herbal substitutes for pansy.
Love spells: Pansy flowers are appropriate for use in love spells, such as the Aphrodite New Moon love spell.
Magickal substitutions: Rosemary usually may be safely substituted for any herb in magick spells and rituals. Roses may safely be substituted for any flower.
Magical Uses

Love, Rain Magic, Divination



information courtesy of


cautions and contraindications:
Cautions and contraindications: Pansy is believed to be safe.
Wild gathering: Avoid wild gathering. Some plants are endangered species. Please grow your own herbs in your own goddess garden (or window boxes).
See also: herbs