A love bath is an easy and safe way to perform a love ritual or love spell. This is not a bath for cleaning — you may want to take a normal shower before performing a love bath.
Prepare a warm bath in a tub and then add magickally empowered herbs. The use of chants, incense, candles, and other magickal support will help empower the love bath.
Relax in the warm scented bath water and envision yourself as a loving and caring person seeking another caring and loving person as a love partner.
Important warning: Remember to place a cheesecloth or nylons or similar material over the drain to prevent the herbs (especially flower petals) from clogging the drain. Your parents will be very upset if you clog up the pipes. You may also use a basket or collander to collect some of the large petals before you even release the drain.
You may also choose to use soaps or bath oils that are based on the herbs that will empower your magick.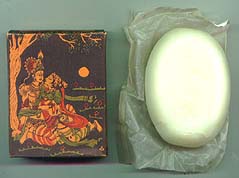 "India Herbal Soap bars, totally animal free. Made of essential oils, coconut oil, and herbs. Choose from 15 scents: Amber, Aphrodesia, Henna, Jasmine, Lavender, LemonGrass, Lily of the Valley, Lotus, Magnolia, Musk, Neroli, NightQueen, Patchouli, Sandalwood, or Rhododendron." — Pagan Shopping (note that products may change over time)
There are several recipes for what herbs to use for a love bath. Famous Wiccan Witch Scott Cunningham suggested the following three recipes:
love bath number 1:
love bath number 2:
love bath number 3:
herbal substitutions

You can create your own love bath formulas, using either herbs (including flower petals) or essential oils. Any of the herbs or essential oils listed in the article on Venus can be used for making your own magick love bath formula. Experiment to find what works best for you. Keep notes in your personal Book of Shadows or magickal diary or grimoire.
Using essential oils: Essential oils are just too concentrated and too expensve to use without dilution. If you purchase pure essential oil from a source such as Mountain Rose, you will want to place just a drop or two into a neutral carrier vegetable oil or jojoba. This conservation is typical of the use of essential oils in spells and other magick. It is wise to test a bit of any essential oil on your inner wrist before use. If any irritation occurs, do not use the essential oil. Keep essential oils out of reach of children and pets and away from heat and light. See the article on essential oils for detailed information on how to mix and use essential oils.