Piñon (or pinyon) are evergreen conifers, a kind of tree and the source of pinyon (or piñon) nuts. There are eight species (and several related species) of piñon.
botanical information: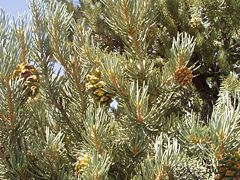 Closeup of Single-leaf Pinyon (Pinus monophylla), showing single leaves and immature cones. Tree is on west slope of Pah Rah Range at approx. 1500 m (5000 ft) elevation. At or near northwest limit of distribution.
Botanical name: Pinus subsection Cembroides
Common name: piñon, pinyon
Use the botanical name when ordering seeds (bulbs, etc.) or when looking up information in the library. Common names vary by nation, culture, and region, and sometimes the same common name is applied to different plants.
There are eight species of true pinyons (Pinus subsection Cembroides):
Pinus cembroides ­ Mexican Pinyon
Pinus orizabensis ­ Orizaba Pinyon
Pinus johannis ­ Johann's Pinyon or Border Pinyon (includes P. discolor)
Pinus culminicola ­ Potosi Pinyon
Pinus remota ­ Texas Pinyon or Papershell Pinyon
Pinus edulis ­ Colorado Pinyon or Two-needle Pinyon
Pinus monophylla ­ Single-leaf Pinyon
Pinus quadrifolia ­ Parry Pinyon (includes P. juarezensis).
These additional species are also related and mostly called pinyons:
Pinus rzedowskii ­ Rzedowski's Pine (Mexico)
Pinus pinceana ­ Weeping Pinyon (Mexico)
Pinus maximartinezii ­ Big-cone Pinyon (Mexico)
Pinus nelsonii ­ Nelson's Pinyon (Mexico)
the three bristlecone pines (high mountains of the SouthWest United States)
the Lacebark Pines (Asia)
Family: Pinaceae (pine)
origin:
Origin: Mexico
magickal correspondences and uses:
Incense:
Truly unique and unlike any incense we have ever burned! Juniper Ridge incense is made entirely from real leaves, wood, and resins which have been wildharvested from the Pacific Western mountains and deserts. Juniper Ridge brings us back to the sweet aroma of the pacific wild lands, and is the perfect choice for those who are disenchanted with the saccharine sweet, overpowering, and synthetic nature of incense today. Enjoy these 100% pure incense sticks that are powerfully reminiscent of trees, mountains, deserts, and crackling campfires. Packaged in stunning recycled content boxes which have been imprinted with hand-drawn images, and 10% of all profits are donated to groups that defend the western wilderness.
Choose from six scents:
Douglas Fir: A cozy wood-smoke scent, reminiscent of campfires.
Juniper: Subtly sweet, with cinnamon-like undertones.
Pinon: Has a wonderful smoky "Southwest" aroma.
Cedar: Distinctively Pacific woods scent, with ginger undertones.
Sweetgrass: A lovely sweet vanilla-like aroma, and a centering energy.
White Sage: A rich sage scent, with all the magic of real White Sage leaves.
Each package contains 40 sticks —.Mountain Rose Herbs
Some herbs may be poisonious under some conditions. Exercise appropriate care.
Wild gathering: Avoid wild gathering. Some plants are endangered species. Some plants can be toxic just by touch. Even experts can make deadly misidentifications of wild plants. Please grow your own herbs in your own goddess garden.