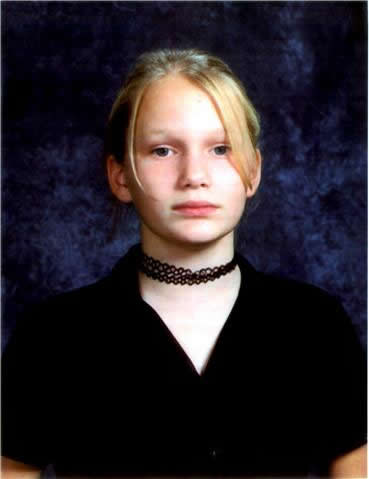 In February 2001, Tempest Kayne Smith, at the age of twelve years old, committed suicide due to bullying and persecution. The behavior she was subjected to began when she was in the second grade and increased with intensity until Tempest could no longer dispel the torment through nonviolent reaction. She left written words indicating her decision.
Twelve year old Detroit, Michigan, schoolgirl Tempest Smith was continually harassed by her classmates, including bombardment with Christian hymns to ridicule her Wiccan beliefs.
Tempest Smith hung herself on February 20, 2001, with her own leopard-print scarf.
In September 2002, after more than a year of meditation and inner contemplation, Tempest's mother Denessa Smith, stepped out into the community with a mission and a message.
In January 2003, the Tempest Smith Foundation legally began. The debut of TSF was at the Tempest Smith Memorial Ritual held at ConVocation. The ritual was performed by several prominent figures of the pagan community to honor Tempest, ensuring that her convictions would not go unnoticed.
No parent should have to find their child dead because of Christian harassment. No teenager should have to face religious discrimination and hatred so great that suicide seems to be the only option.

---
reply from a Christian pastor:
Hi,
My name is Matt Clayton and I am the pastor of Wellspring Wesleyan Church. I just wanted to let you know that I stumbled across your website yesterday, and noticed the story of Tempest Smith. Her story angered me deeply. I agree with you that Christians should never harass anyone. Words escape me, there's nothing I can say to change the horror of this family's tragedy. I just wanted you to know that it outrages me the way she was treated. I personally feel that everyone has common ground if they would just look for it. I was friend's with a guy with Wiccan beliefs while working the night shift at a Q-tip factory in Jefferson City, MO. While I was working there I was frequently disturbed by the way Christians treated him for the Wiccan tattoos and jewelry he wore. I really liked him, looked forward to our conversations each night, and appreciated his openness and friendship towards me. I just thought it may be encouraging to know some people are trying to build common ground.
With Love and Sadness,
Matt Clayton
www.wellspring.cc