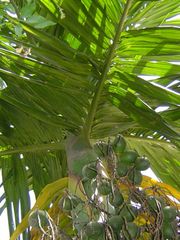 Betel palm is a tree, the source of the betel nut.
botanical information:
Botanical name: Areca catechu
Common name: areca tree, betel palm
Use the botanical name when ordering seeds (bulbs, etc.) or when looking up information in the library. Common names vary by nation, culture, and region, and sometimes the same common name is applied to different plants.
origin:
Origin: Asia.
Magickal substitutions: Rosemary usually may be safely substituted for any herb in magick spells and rituals. Roses may safely be substituted for any flower.
ritual uses:
Ritual uses of betel nut: The betel nut is an offering in Hinduism.
Ritual uses of betel nut: In Vietnam the betel leaf (from the botanically unrelated Betel pepper plant) and areca nuts are given to the bride's family at weddings. The Vietnamese phrase "matters of betel and areca" means marriage.
Some herbs may be poisonious under some conditions. Exercise appropriate care.
Wild gathering: Avoid wild gathering. Some plants are endangered species. Some plants can be toxic just by touch. Even experts can make deadly misidentifications of wild plants. Please grow your own herbs in your own goddess garden.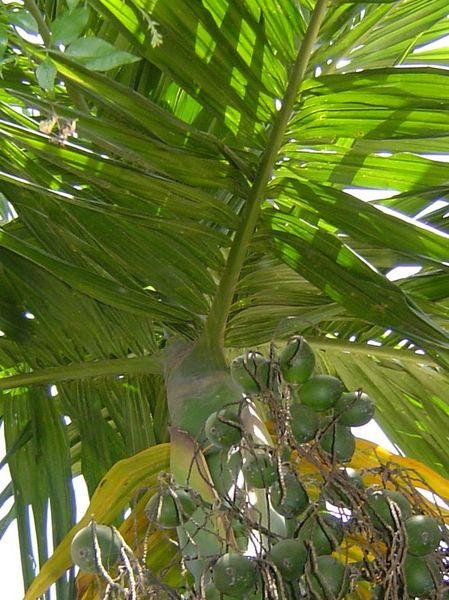 betel nut fruit hanging from the tree
public domain photo from Wikipedia
See also: palm, herbs, and trees.