Summary: Buddha Amitaba is the Buddha of Infinite Radiance.
names:
name: Buddha Amitaba
(NOTE: In addition to native variations by locality or over time, there are often several possible transliterations into the Roman alphabet used for English.)
basic information:
Buddha Amitaba: Buddhist Symbol of Self-Realization
Path: Gradual Unfolding †
Direction: West †
Mudra: Meditation †
Symbol: Lotus †
Primordial Wisdom: Discrimination †
Element: Fire †
Vehicle: Peacock †
Consort: Pandara †
Aggregate: Perception †
Color: Red †
Buddha Amitaba's relations:
The Five Transcendental Buddhas (also called Dhyani, Tathagata, and Jina Buddhas) are: Vairocana, Akshobya, Ratnasambhava, Amitaba, and Amogasiddhi. †
Avaloketishwara, the Redeemer of Humanity, is an emanation of Amitaba.
magickal information and correspondences:
Symbol: Lotus
other: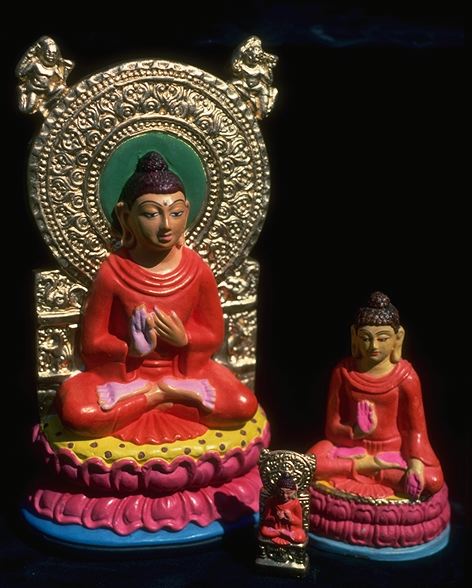 Picture courtesy of JBL Statues
this reproduction was sold by Sacred Source
JBL Statues is now Sacred Source
Buddha Amitaba — Symbol of Self-Realization. The teachings of Buddha (b. circa 525 BCE) developed in India as a reformative out growth of Hinduism, and provide an extensive cosmological picture, a basis for ethical behavior, and a self-empowering philosophy of life. Rupas (statues) of the Buddha and of his innumerable incarnations, called bodhisattvas, serve to focus a meditator's inward devotional practice. The statues' vivid colors, intricacy, and symmetry are also a source of delight to collectors of Eastern art. Buddha is portrayed in classic lotus pose, lost in meditation as he sat beneath the Bodhi tree and achieved ultimate realization. This he delineated as the Law of the Wheel: 1) Life is suffering; 2) Suffering's cause is desire; 3) Elimination of desire brings an end to suffering; 4) This state of nirvana can be achieved by following the Eightfold Path of right living. —picture and text © 1996 JBL Statues (now called Sacred Source), original text created by Tom Laudeman
religious title certificate

Get a beautiful certificate declaring that you are a guru, monk, nun, priestess, priest, high priestess, high priest, witch, or shaman of Buddhism. This is a real religious certificate meeting government standards for conducting marriages and other ceremonies.
external links:
If you follow any of the links offered on this web site, no spell begging. Especially no love spell begging.
† Reference: [external link] Deities described; Buddhist glossary, Chart of the Five Buddhas, and Buddhist links.
If you have an Amitaba-related web page, please send the URL to Milo. Please indicate if there is a picture on your web page.