Summary: Ahti is the native ancient Egyptian (Kemetic) God of music and musicians.
names:
Kemetic names: Ahy, Ahi, Ehy, Ihy


ancient Egyptian hieroglyphs for Ahy
(NOTE: In addition to native variations by locality or over time, there are often several possible transliterations into the Roman alphabet used for English.)
basic information: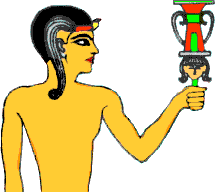 Ahi is depicted as a child, shown in artwork as a teenage boy. Ahy is shown with short hair except for the long curly side hair-lock of a child. Ahy is shown wearing a small diadem with the Buto cobra.
Ahy is the god of music and musicians. Ahy is depicted holding a highly decorated sistrum in his right hand. The sistrum was a rattle-like percussion instrument used for creating rhythmic patterns. Ahy's mother Het Heret (Hathor) is also often shown with the sistrum.
The main focus of ancient Egyptian (Kemetic) worship of Ahy was in the great temple of Het heret (Hathor) in Dendera.
Ahy's relations:
Ahi is the son of Heru Sa Aset (Horus) and Het Heret (Hathor).
magickal information and correspondences:
Symbol: sistrum
other:
religious title certificate

Get a beautiful certificate declaring that you are a priestess, priest, high priestess, high priest, hem, hemet, kher, sesh per ankh, scribe, witch, or shaman of Ahy. This is a real religious certificate meeting government standards for conducting marriages and other ceremonies.
external links:
If you follow any of the links offered on this web site, no spell begging. Especially no love spell begging.
If you have an Ahy-related web page, please send the URL to Milo. Please indicate if there is a picture on your web page.