Summary: Anahita is the Persian Goddess of fertility and water.
names:
Persian names: Anahita, Anahit, Ardvi Sura Anahita, "Immaculate One"
Greek names: Anaitis
(NOTE: In addition to native variations by locality or over time, there are often several possible transliterations into the Roman alphabet used for English.)
basic information:
Anahita: Persian Water Goddess; Fertility Goddess
Ardvi Sura Anahita (also Anahita, Anahit, or "Immaculate One"), which means "the humid, strong, immaculate one", was one of the ruling deities of the Persian Empire. She embodied the physical and metaphroical qualities of water, especially the fertilizing flow of water from the fountain in the stars. She also ruled semen and human fertility. She was viewed as the "Golden Mother" and as a warrior maiden.
Anahita originated in Babylon and spread to Kemet (ancient Egypt), where She was depicted as an armed and mounted Goddess. The Greeks associated Anahita with either Athena or Aphrodite. In the Middle East, She was associated with Anat. Worship of Anahita spread to Armenia, Persia, and various parts of western Asia. Zoroaster was specifically commanded by his male god to honor Her.
Anahita was often shown wearing a golden kerchief, square gold earrings, and a jeweled diadem, and wrapped in a golde-embroidered cloak adorned with thirty otter skins. Anahita was sometimes depicted as driving a chariot drawn by four white horses, representing wind, rain, clouds, and hail. Anahita was honored with offerings of green branches and white heifers. Ritual prostitution occurred in Her temples in order to "purify the seed of males and the womb and milk of females," according to Strabo. Armenians called out to Anahita "Great Lady Anahita, glory and life-giver of our nation, mother of sobriety, and benefactor of humanity."
magickal information and correspondences:
Sacred candle color: green
other: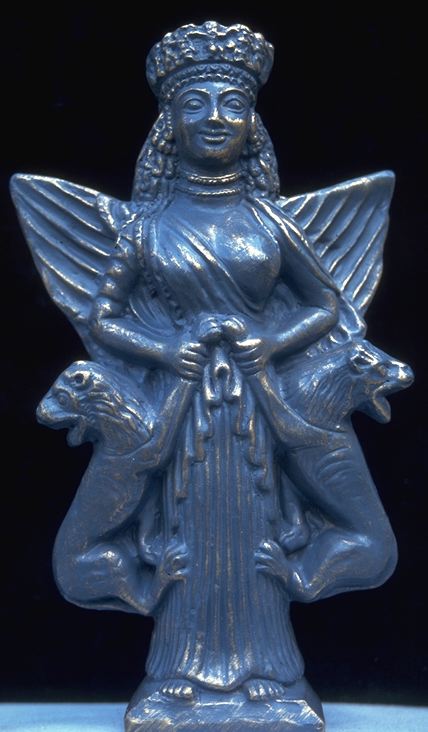 Picture courtesy of JBL Statues
this reproduction was sold by Sacred Source
JBL Statues is now Sacred Source
Anahit — The Lady of Beasts and Goddess of Sacred Dance. Anahita was also known as Persian Artemis, reflecting her similarity to both Ishtar, Astarte, and Venus. This mother-goddess was ruler of waters, the stars and Fate. She was a motif on the most ancient Greek monuments, and her wings associate her with Nike-Athena's powers of flight and sureness. Her sacred beasts were the bull and lion, the latter connecting her to both Sumerian Lilith and Diana of Ephesus. In the Mithraic mystery religion, Anahita is the female creative principle. —picture and text © 1996 JBL Statues (now called Sacred Source), original text created by Tom Laudeman
religious title certificate

Get a beautiful certificate declaring that you are a priestess, priest, high priestess, high priest, witch, or shaman of Anahita. This is a real religious certificate meeting government standards for conducting marriages and other ceremonies.
external links:
If you follow any of the links offered on this web site, no spell begging. Especially no love spell begging.
If you have an Anahita-related web page, please send the URL to Milo. Please indicate if there is a picture on your web page.