Alexandria was founded by Alexander the Great around 334 B.C.E. (the exact date is subject to debate). Alexandria is located on the Mediterranean Sea in northwest Egypt and is currently the second largest city in Egypt and Egypt's largest seaport.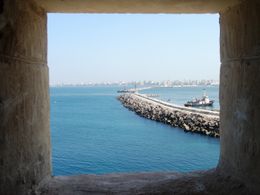 modern Alexandria
According to one legend, Homer appeared to Alexander in a dream and told Alexander that he would build a city as "an island set in ocean deep, lies off far Egypt's rich and fertile land, and name of the island called Pharos."
Pharos is a small island in the harbor of Alexandria. Sostratus built a great lighthouse on the island of Pharos. The lighthouse was made of white marble and was five hundred (500) feet tall.
The historian Arrian said that Alexander undertook to lay out the city's general plan, but lacked chalk and resorted to marking the outline with grain. One of Alexander's seers, Aristander of Telmessus, interpretted this as an omen that the city would prosper and have lots of grain. Other seers claimed that the omen wasn't the grain, but rather the flock of birds that gathered (generally flocks of birds are a bad omen). Aristander claimed that the birds were a good omen, indicating that the city would attract and feed many people.
Alexandria was built on the site of a small native Egyptian fishing village called Rhacotis. Five additional native villages were scattered along the land between Lake Mareotis and the sea, accordng to historian Pseudo-Callisthenes. Alexandria replaced the city Naucratis as the Greek center in ancient Egypt.


lithograph of Alexandria across Lake Mareotis
The chief architect of the city was Deinocrates of Rhodes. A few months after marking the foundation, Alexandria left Egypt to conquer the East and never returned. Cleomenes supervised the construction of the city. In less than a generation the city surpassed Carthage in size. In a century Alexandria became the largest city in the world. Under the Roman Empire Alexandria was second in size only to Rome. The city shrunk to a small village under th rule of Muslem Arabs, but has become a large modern seaport in the last century.
The Great Library at Alexandria was the largest library in antiquity.