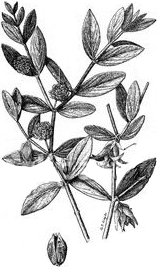 Jojoba is a plant and an herb.
botanical information:
Botanical name: Simmondsia chinensis
Common name: jojoba
Use the botanical name when ordering seeds (bulbs, etc.) or when looking up information in the library. Common names vary by nation, culture, and region, and sometimes the same common name is applied to different plants.
magickal correspondences and uses:
Jojoba is an excellent base for dilluting valuable essential oils. Pour your jojoba into the sterilized glass jar. A typical amount is 1/8th of a cup of jojoba. Jojoba is not actually an oil (it is a liquid wax), but it serves the same purpose and will last much longer than real oils because it never goes rancid (although the essential oils will eventually degrade over time).
Magickal substitutions: Rosemary usually may be safely substituted for any herb in magick spells and rituals. Roses may safely be substituted for any flower.
base or carrier oil:
Base Oil: Jojoba can be used as a base (or carrier) oil for both aromatherapy and magick.
Aroma: Light to medium; distinct but pleasant.
Texture: Light and silky; absorbs well.
Color: Yellow.
Notes: Actually a wax; for aromatherapy it is often blended with other oils (10% jojoba); very long shelf life.
health care uses:
Health Notice: Attempting to be an amateur doctor is potentially dangerous to your health. This web page is not professional medical advice. Nothing on this website should be considered as a substitute or replacement for professional medical advice. Persons should seek the advice of qualified health providers. Self-medication should not be used as a substitute for professional medical care. Please confirm all self-medication with your doctor or health care professional. See the article on healing for recommended healers.
external care:
External hair care: Native Americans used jojoba for its healing properties. Jojoba helps thick, dry, brittle hair.

External skin care: Jojoba oil in Great Skin Firming Night Cream: "Works by increasing your skin's vitality and sealing in moisture. With collagen to restore elasticity and Vitamin E for healing. Deeply penetrates to prevent excess dryness. With sesame oil, olive oil, apricot kernel oil, jojoba oil, avocado oil, squalene, kakui nut oil, aloe vera, Vitamin E, lemon balm, comfrey, sage, marigold, marsh mallow, teaberry, jasmine, cucumber, Vitamin A, and Vitmin D. Firming night cream is a heavy moisturizer that deeply penetrates the skin and will prevent excess dryness. This therapeutic vitamin and moisturizing treatment increases the skin's vitality and seals in the moisture, augmenting skin's resilience. Contains collagen which restores elasticity, and vitamin E which helps in healing the skin. Nourishes the skin as it firms. Apply before bedtime after cleansing and toning." Great Skin Firming Night Cream
cautions and contraindications:
Wild gathering: Avoid wild gathering. Some plants are endangered species. Please grow your own herbs in your own goddess garden (or window boxes).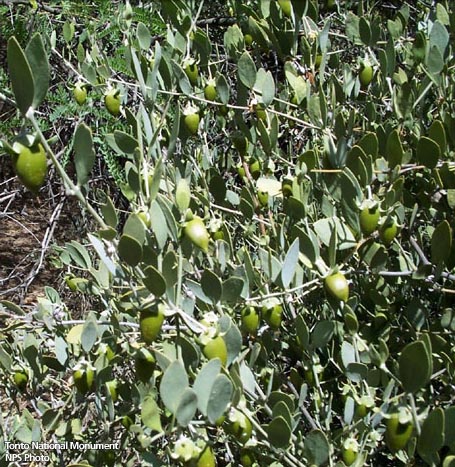 jojoba foliage and fruit
US NPS photo
See also: herbs.