Sage is a plant and an herb.
botanical information:
Botanical name: Numerous plants of the Lamiaceae family, especially Salvia officinalis (common sage)
Common name: sage
Use the botanical name when ordering seeds (bulbs, etc.) or when looking up information in the library. Common names vary by nation, culture, and region, and sometimes the same common name is applied to different plants.
Salvia means safe and is a reference to the ancient healing properties of sage.
sages:
Family: Lamiaceae (mint) or Labiatae (obsolete name for mint family)
part used:
astrological correspondences:
Astrological planet: Jupiter


magickal correspondences and uses:
Incense: See incense sticks below.
Sage incense is the magick incense certain days, based on planetary influences. You may want to burn sage incense these days. You may substitute a similar incense if you don't have or don't like sage. The sage incense magick days for 2009 are: January 3, February 21, May 9, June 6, July18, October 3, November 21, and December 12.
Reversing spells: To reverse any spell (including love spells), light a dried sage leaf on fire, then blow out the flame, leaving a burning red ember. Slowly create a large circle in the air with the sage smoke, making the circle three times counter-clockwise. While making each of the three circles, chant to undo the previous spell. You may write your own chant, but it should be short and to the point. You may want to obtain ecologically-safe organic sage from Mountain Rose Herbs.
If you have the time, you can empower the reversal of your love spell by casting a circle (in either Wiccan or ancient Egyptian style) and lighting a white candle on your altar. Concentrate on the ever changing flickering of the candle flame and let your true intentions flow into the power of the dancing flame. You may want to dress the candle as described in the article on myrhh.

Jupiter spells: Sage (as an herb) may be used in as an ingredient or substitute for magick spells and formulas related to Jupiter matters (growth, legal matters, luck, meditation, money, prosperity, settling legal matters, and spirituality). Be careful about substitutions for preparations that will be ingested or come in contact with the skin. These substitutions do not apply to medical uses. See the article on Jupiter for a list of herbal substitutes for sage.
Magickal substitutions: Rosemary usually may be safely substituted for any herb in magick spells and rituals. Roses may safely be substituted for any flower.
health care uses:
Health Notice: Attempting to be an amateur doctor is potentially dangerous to your health. This web page is not professional medical advice. Nothing on this website should be considered as a substitute or replacement for professional medical advice. Persons should seek the advice of qualified health providers. Self-medication should not be used as a substitute for professional medical care. Please confirm all self-medication with your doctor or health care professional. See the article on healing for recommended healers.
traditional medicine:
Traditional Medicine: While many traditional practices have been scientifically verified, some are now known to be dangerous. Seek the advice of qualified health care providers.
Sage has traditionally been used to relieve sore throats.
Sage leaves have traditionally been used to relieve hot flashes.
herbal healing:
Recent research shows that sage can be useful as a treatment for type 2 diabetes.
external care:

External skin care: Sage in Great Skin Firming Night Cream: "Works by increasing your skin's vitality and sealing in moisture. With collagen to restore elasticity and Vitamin E for healing. Deeply penetrates to prevent excess dryness. With sesame oil, olive oil, apricot kernel oil, jojoba oil, avocado oil, squalene, kakui nut oil, aloe vera, Vitamin E, lemon balm, comfrey, sage, marigold, marsh mallow, teaberry, jasmine, cucumber, Vitamin A, and Vitmin D. Firming night cream is a heavy moisturizer that deeply penetrates the skin and will prevent excess dryness. This therapeutic vitamin and moisturizing treatment increases the skin's vitality and seals in the moisture, augmenting skin's resilience. Contains collagen which restores elasticity, and vitamin E which helps in healing the skin. Nourishes the skin as it firms. Apply before bedtime after cleansing and toning." Great Skin Firming Night Cream
Some herbs may be poisonious under some conditions. Exercise appropriate care.
Wild gathering: Avoid wild gathering. Some plants are endangered species. Some plants can be toxic just by touch. Even experts can make deadly misidentifications of wild plants. Please grow your own herbs in your own goddess garden (or window boxes).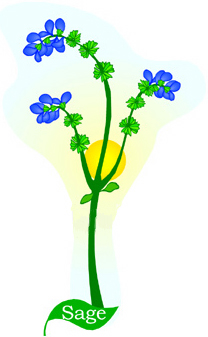 sages:
See also: herbs.