Ashwagandha or ashwaganda is an herb.
botanical information:
Botanical name: Withania somnifera
Common name: ajagandha, ashwaganda, ashwagandha, ayamodakam (Malayalam), Indian ginseng, Indian winter cherry, kanaje Hindi, samm al ferakh, winter cherry
The word ashwagandha is Sanskrit for "that which has the smell of a horse". Some references claim this is a reference to a slightly musty odor of the root. Other sources claim that this is a reference to the plant giving the vitality and sexual energy of a horse.
Use the botanical name when ordering seeds (bulbs, etc.) or when looking up information in the library. Common names vary by nation, culture, and region, and sometimes the same common name is applied to different plants.
Family: Solanaceae (nightshade)
Kind: Shrub.
Height: three (3) feet (about one meter) to six (6) feet (170 cm)
Spread: three (3) feet diameter
Flower: tiny white or yellow
Fruit: small red berries in a husk
origin:
Origin: India, Nepal, Pakistan, Sri Lanka, and Bangladesh
Now cultivated in India (especially the state of Madhya Pradesh) and North America
part used:
Part Used: Eastern and Western herbal medicine use[s] the dried root. Most notably, the dry, cut root. Berries of this plant are mildly toxic to the stomach and gastrointestinal tract. No major studies have released the benefits of the leaf.
Information courtesy of Mountain Rose Herbs
health care uses:
Health Notice: Attempting to be an amateur doctor is potentially dangerous to your health. This web page is not professional medical advice. Nothing on this website should be considered as a substitute or replacement for professional medical advice. Persons should seek the advice of qualified health providers. Self-medication should not be used as a substitute for professional medical care. Please confirm all self-medication with your doctor or health care professional. See the article on healing for recommended healers.
Ayurvedic herbalism: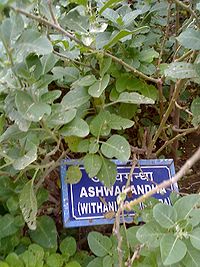 Ayurvedic Doshas: VK- P+ Pitta increases; Kapha decreases; Vata decreases and Ama increases in excess
Part Used: mostly roots, also leaves and fruit
Taste: bitter, astringent
Energy: heating
Vipaka: (Post-Digestive Effect) sweet
Tissues: bone, fat, marrow, muscle, nerve, reproductive
Systems: nervous, reproductive, respiratory
Actions: tonic, rejuvenative, aphrodisiac, nervine
Precautions: high Ama, severe congestion
Preparation: decoction, milk decoction, powder (250 mg to 1 g), paste, medicated ghee, medicated oil
Regenerative milk decoction (optionally add raw sugar, honey, pippali, and basmati rice) slows or inhibits aging.
According to Dr. Ram of The Healing Gardens, "ASWAGANDHA-(withania somnifera): Confers immune system protection, combats effects of stress, improves learning, memory, reaction time, reduces anxiety and depression without causing drowsiness, stabilizes blood sugar, lowers cholesterol, reduces brain-cell degeneration, contains anti-malarial properties, offers anti-inflammatory benefits."
Ashwagandha is used in Dr. Ram's Sleep Solution, an Ayurvedic herbal sleep aid.
Ashwaganda root: Typically found and cultivated in India, Ashwaganda has been popularly applied to those with overworked and often hyper-tense lives. Ashwaganda is India's native answer to Ginseng and it is currently being applied in Ayurvedic medicine to treat hypertension and stress related ailments.
Information courtesy of Mountain Rose Herbs
For more information, see the article on Ayurvedic medicine.

cautions and contraindications:
Cautions and contraindications: none
Some herbs may be poisonious under some conditions. Exercise appropriate care.
Wild gathering: Avoid wild gathering. Some plants are endangered species. Some plants can be toxic just by touch. Even experts can make deadly misidentifications of wild plants. Please grow your own herbs in your own goddess garden.
planting and growing:
USDA Zone(s): 3 to 10
Soil: sandy loam or stony soil
Sun: full or part
Water: dry
Propagation: easy
Germination: needs warmth and light
Pests and Diseases none
Ashwaganda seeds Herbaceous perennial in the tropics, annual in temperate zones. Start indoors and transplant as you would tomatoes. Does not tolerate cold conditions well. Ginseng-like Ayurvedic tonic mainly for physical and mental exhaustion.
Information courtesy of Mountain Rose Herbs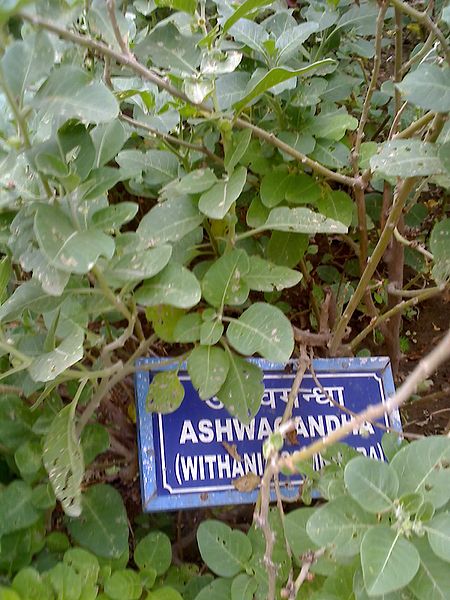 See also: herbs.