Beech is a tree.
botanical information:
Botanical name: Fagus sylvatica
Common name: beech
Use the botanical name when ordering seeds (bulbs, etc.) or when looking up information in the library. Common names vary by nation, culture, and region, and sometimes the same common name is applied to different plants.
magickal correspondences and uses:
Gender: feminine (traditional western European magickal gender)
Magickal uses: Carve your wishes into a stick of beech and then bury the stick in the ground. If your wish was meant to be, it will come true.
Magickal substitutions: Rosemary usually may be safely substituted for any herb in magick spells and rituals. Roses may safely be substituted for any flower.
Magical Uses

Wishes



information courtesy of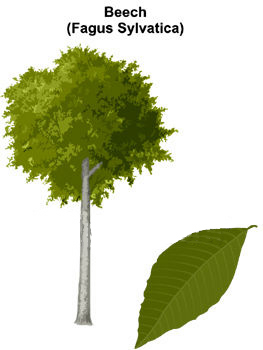 Wild gathering: Avoid wild gathering. Some plants are endangered species. Please grow your own herbs in your own goddess garden.