The deities of the Celts.
These people were called the Celts (Keltoi) by the Greek and called the Gauls by the Romans. They called themselves the Dan. Their empire at its height spread across most of Europe and into Asia as far as northern India (British Islands, Ireland, Wales, France, Spain, Scandinavia, Germany, north Africa, north Italy, north Greece, Austria, Hungary, Assyria, Parthia, north India, and even western China).
Remnants of lands named for the Dan include: Danube River, Denmark (land of the Dan), and London.
Remnants of lands named for the Gaul include: Galatia
These people were also known as the Cimmerians (related to the Scythians).
deities
examples of Celtic pentacles
The following examples of Celtic pentacles are from Earth Spirit Emporium. Many of these examples are still available for purchase, but as time passes some will no longer be offered.
Celtic Pentacle
"Celtic Pentacle: For Achievement of Goals. Crafted in lead-free pewter and supplied with a black cord necklace. 1 1/4" x 1 1/4"" — Earth Spirit Emporium (note that products and availability may change over time)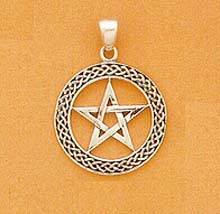 Celtic Weave Pentacle Pendant
"Celtic Weave Pentacle Pendant: This is a fine silver Celtic Weave Pentacle Pendant. It is 1" diameter." — Earth Spirit Emporium (note that products and availability may change over time)