Summary: Aah is the native ancient Egyptian (Kemetic) God of the Moon.
names:
Kemetic names: Aah, Aah-te-Huti. Áa, Åh
(NOTE: In addition to native variations by locality or over time, there are often several possible transliterations into the Roman alphabet used for English.)
Aah's name meant moon, but also meant collar, to embrace, and defender.
basic information:
Aah: Kemetic Moon God
magickal information and correspondences: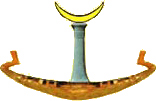 Symbol: Aah's symbol is the crescent moon.
Sacred candle color: silver
planet:
Planet: Moon

other:
Aah-te-Huti is the ancient Egyptian moon god.
Aah was one of the earliest ancient Egyptian deities and was in charge of the ancient lunar year (12 to 13 months of 28 days each). By the Pharaonic period, the Egyptian months were organized as twelve 30-day months, each with three ten-day weeks, for a total of 260 days a year. The months did not have individual names until the New Kingdom. Months were grouped into three four-month sseasons. The extra five days of the 365-day year were considered outside of the normal year and not a part of any month.

The ancient Egyptian hieroglyph for month was a crescent moon (the first visible crescent after the New Moon) over the symbol for star.
After the early period of Kemet, Aah faded in popularity and his duties became somewhat shadowy. Aah is quoted in the Book of Coming Forth into the Day (often called the Egyptian Book of the Dead) as saying "I am the moon-god Aah, the dweller among the gods."
Aah was sometimes depicted with the sun disk on top of the moon crescent.

Aah was often accompanied by Thoth (Djehuti) and Khons. Aah was often depicted as Thoth-Aah, a crescent moon resting on a Thoth pedestal resting on a boat (see picture above under symbol).
Aah gambled with Djehuti (Thoth) and lost, resulting in five extra days added to the year.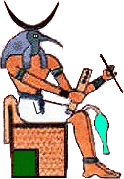 Aah was sometimes depicted as Osiris-Aah (or Asar-Aah), the moon crescent and solar disk on the head of Asar (Osiris).
religious title certificate

Get a beautiful certificate declaring that you are a priestess, priest, high priestess, high priest, hem, hemet, kher, sesh per ankh, scribe, witch, or shaman of Aah-te-Huti. This is a real religious certificate meeting government standards for conducting marriages and other ceremonies.
external links:
If you follow any of the links offered on this web site, no spell begging. Especially no love spell begging.
If you have an Aah-related web page, please send the URL to Milo. Please indicate if there is a picture on your web page.