Divination is the act of foretelling the future or determing the past or revealing other knowledge through augury or magick or supernatural method.
methods of divination: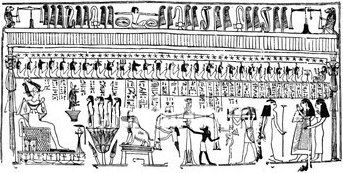 Divination herbs: The article on Mercury lists herbs and essential oils related to the astrological planet Mercury. These herbs and essential oils can be used in conjunction with your favorite divination methods to enhance the magickal and psychic power.
examples of divination jewelry
The following examples of divination jewelry are from Earth Spirit Emporium. Many of these examples are still available for purchase, but as time passes some will no longer be offered.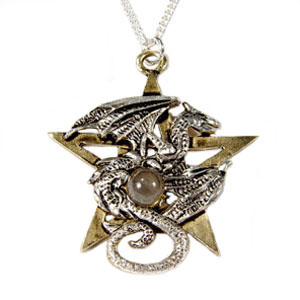 Dracogram Star Necklace
"Dracogram Star Necklace: Clutching its divination ball, the Dragon symbolizes Life Force combined with the magical energy of the Pentagram to form a powerful talisman for Scrying into the Future. Details for Dracogram Star Necklace: Size: 1 1/2" Metal: Fine Pewter Enhanced With Gold and Silver Stone: Swarovski Crystals Option: Adjustable Chain Included." — Earth Spirit Emporium (note that products and availability may change over time)
more information on pentacles and pentagrams