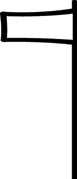 ancient Egyptian
hieroglyph
for Ntr
Ntr is the ancient Egyptian name for the divine. The neteru is the ancient Egyptian name for the ancient Egyptian Gods and Goddesses.
The hieroglyph for Ntr looks like a flag because in the pre-dynastic period roadside shirnes were marked with long pennant flags on a very tall flagpole.
Ntr is written in Roman letters as Ntr, Ntr, Neter, Netjer, or Netcher. The underlined t represents the sound tch (or tj).
The word God is indicated by adding the determinative for male god to the hieroglyph Ntr. The word Goddess is indicated by adding the determinative for female goddess to the hieroglyph Ntr.
Ancient Egyptian traditionalists will primarily be concerned with ancient Egyptian neteru and the native ancient Egyptian interpretations.
Wiccans and neo-pagans may concentrate on one pantheon or may combine from many pantheons. Each Wiccan will choose one or more Gods to be their Lord and one or more Goddesses to be their Lady. Wiccans may invoke any deity for a particular spell or ritual (not limited to just their Lord and Lady).
Naomi Ozaniec divides the Puat Neteru (company of the divine or the ancient Egyptian pantheon) into three major hierarchies: metaphysical, cosmic, and terrestrial (giving the following examples of each; note that a particular neteru may be in multiple categories):
Metaphysical: Atum, Neith, Ra.
Cosmic: Anubis (Anpu), Asar (Osiris), Aset (Isis), Djehuti (Thoth), Heru (Horus the Younger), Het Heret (Hathor), Nebt Het (Nephthys), Nwt (Nut), Set
Terrestial: Amun-Min, Anpu (Anubis), Mwt (Mut), Ptah, Set
pantheons
deities
list of Wiccan Goddesses
list of Witchcraft Gods
What is the Wiccan view of the divine?
Only believing/worshiping/honoring etc. the earth and everything on it and around it. Wicca chants to the Gods and Goddess for help, light, love, etc. —CrystalAngel2006