Summary: Odin is Norse Father God of the sky.
names:
Norse names: Odin, Valfathir
Anglo-Saxon name: Woden
English names: All-father, God of the Hanged
(NOTE: In addition to native variations by locality or over time, there are often several possible transliterations into the Roman alphabet used for English.)
basic information:
Odin: Norse Father Sky God.
The English word "Wednesday" is derived from this God's name.
Odin's relations:
Associated with the Anglo-Saxon God Woden.
A member of the Aesir.
magickal information and correspondences:
Sacred candle color: red and purple
herbs associated with Odin: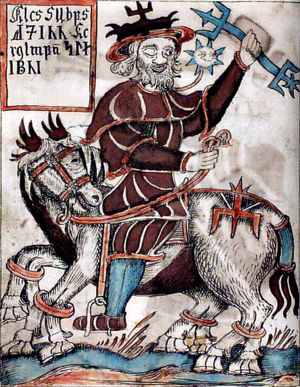 Odin rides Sleipnir in an 18th Century Icelandic manuscript.
Sleipnir: is a shamanic horse is used to travel between states of consciousness. Odin rode Sleipnir between the three worlds of the Asatru (Norse) religion: Asgard (the upper realm of the deities), Midgard (the realm of humans), and Utgard (realm of the shades). The name Sleipnir means "smooth" or "gliding" is the source of the modern English word "slippery". Some scholars have suggested that Sleipnir had eight legs as a symbol of the eight legs of four men carrying a coffin, becoming a steed to carry the rider into the underworld of Utgard. A stainless steel statue of Steipnir appears in the town of Wednesbury in the United Kingdom (Wednesbury means Wodin's Hill, and Woden is the Anglo-Saxon name for Odin).
holy days
Wednesday: Wednesday is named for Odin.
other:
from "The Handbook of Norse Mythology":
by Karl Mortensen, 1898 ("Nordisk mythologi"), original Danish
translated into English 1913 by A. Clinton Crowell

3. AESIR AND ASYNJUR.— "Then said Gangleri (i.e. King Gylfi): Which are the Aesir in whom it is man's duty to believe? Har answers: Twelve are the Aesir of the race of gods. Then said Jafnhar: The Asynjur are not less holy and they are not less capable. Then said Thrithi: Odin is the greatest and oldest of the Aesir."

…

4. ODIN is the greatest and oldest of the Aesir and governs all things; however mighty the other gods are, they all serve him as children their father. Frigg is his wife, and she knows exactly the fate of every man, but yet does not occupy herself with divination. Odin is called "All-father," because he is father of all the gods, but is called also "Valfathir," because all those are his chosen sons who fall on the field of battle. He gives them places in Valhalla and Vingolf, and there they are called Einherjar. Odin is also called God of the Hanged, and has many more names, which can be read in the Eddic Poem Grimnismal.
religious title certificate

Get a beautiful certificate declaring that you are a priestess, priest, high priestess, high priest, witch, or shaman of Odin. This is a real religious certificate meeting government standards for conducting marriages and other ceremonies.