Summary: Djehuti (Thoth) is the Kemetic (ancient Egyptian) God of mathematics, writing, and knowledge.
names:
Kemetic names: Djehuti, Tehuti, Zehuti, Djhowtey
Greek names: Thoth, Toth, Thot, Thout, Hermes Trismegistus
(NOTE: In addition to native variations by locality or over time, there are often several possible transliterations into the Roman alphabet used for English.)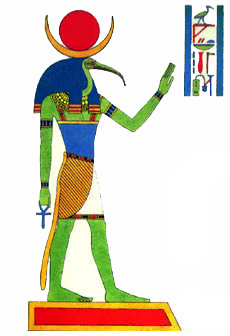 basic information:
Djehuti [Thoth or Hermes Trismegistus]: The God of mathematics, writing, and scholarship. In some creation myths He is the voice of Ptah (the word or logos that appears in Christian and Jewish creation myths) as Ptah emerges from the Cosmic Egg. In the creation myth of the Ogdoad revealing the Ennead, Djehuti and Seshat play the role of primary creation deities. Djehuti is typically shown with the head of an ibis or a baboon.
Djehuti's relations:
Considered by the Greeks to be the same God as the Greek Hermes and the Roman Mercury.
Son of Ra (also Re).
Brother of Bast (Bastet), Sekhmet, Seshat, Het Heret (Hathor), and Ma'at.
The Phoenician deity Taut was derived from the ancient Egyptian Thoth.
magickal information and correspondences:
Sacred candle color: silver, purple, royal blue
planet:
Planet: Mercury

holy days
Wednesday: Djehuti is associated with Wednesday.
Tot-abet or Djehuti: Djehuti is the God of the month of Tot-abet or Djehuti of the season of Akhet (Inundation), which was from approximately mid July to mid August.
May 11: "Thoth was present at the creation & witnessed the birth of Ra. He invented the 365 day calendar."—@LadyOceanStar on Twitter
other:
religious title certificate

Get a beautiful certificate declaring that you are a priestess, priest, high priestess, high priest, hem, hemet, kher, sesh per ankh, scribe, witch, or shaman of Djehuti or Thoth. This is a real religious certificate meeting government standards for conducting marriages and other ceremonies.
external links:
If you follow any of the links offered on this web site, no spell begging. Especially no love spell begging.
If you have a Djehuti or Thoth-related web page, please send the URL to Milo. Please indicate if there is a picture on your web page.
Important and valuable artwork from the Egyptian Museum in Cairo Egypt and other important locations have been stolen during the Egyptian Revolution (possibly from insiders of the old regime). See stolen artwork.
Stone statuette of a scribe from Amarna (a possible candidate, a statuette of a scribe and Thoth, 14cm tall.