Summary: Acheloüs is a Greek river God.
names:
Greek name: Acheloüs
(NOTE: In addition to native variations by locality or over time, there are often several possible transliterations into the Roman alphabet used for English.)
basic information:
Acheloüs: Greek river God
Acheloüs' relations:
Eldest son of Oceanus and Tethys.
myths and beliefs: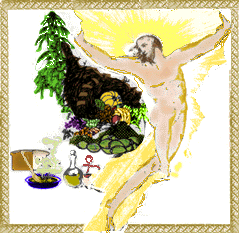 Acheloüs, in the form of a bull, fought Heracles for Deianira and lost. Heracles broke off one of Acheloüs' horns, which became the Cornucopia, or "horn of plenty".
The cornucopia is a horn-shaped container overflowing with fruit, vegetables, and flowers. It is the symbol of fruitfulness, fertility, and plenty. It is from the horn of the goat Amalthaea, which suckled the infant Ammon-Zeus.
other:
religious title certificate

Get a beautiful certificate declaring that you are a priestess, priest, high priestess, high priest, witch, or shaman of Acheloüs. This is a real religious certificate meeting government standards for conducting marriages and other ceremonies.
external links:
If you follow any of the links offered on this web site, no spell begging. Especially no love spell begging.
If you have an Acheloüs-related web page, please send the URL to Milo. Please indicate if there is a picture on your web page.