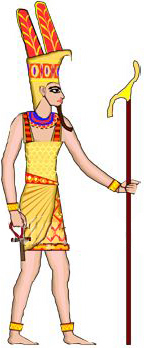 Summary: Amon is the native ancient Egyptian (Kemetic) God of wind, fertility, life, and secrets. Amon was sometimes with Min to be the neteru Amun-Min.
names:
Kemetic names: Amon, Ammon, Amun, Amana, Amen, Hammon
(NOTE: In addition to native variations by locality or over time, there are often several possible transliterations into the Roman alphabet used for English.)
basic information:
Amon: God of wind, fertility, and secrets. Husband of Mwt. Thousands of children, including Bast, Neith, Hapi, and Khons. Amon-Ra is an important combined deity (Amon and Ra). Amon is often shown with the large-curving horns of a ram unique to the Nile Valley or as the Sphinx.
Amon's relations:
Amun, Mwt, and Khonsu form the great triad of Thebes.
Amen-Ra was the deity of the ancient Egyptian Nome of Uast in Upper Egypt. The Capital was Uast (Thebes).

—The Gods of the Egyptians Studies in Egyptian Mythology Volume 1, E.A. Wallis Budge, Chapter III: Primitive Gods and Nome-Gods
magickal information and correspondences:
Sacred candle color: green
planet:
Planet: Moon

Karnak temple



herbs associated with Amon:
myths and beliefs:
An example from the Leyden Papyrus of Qenna:
All the neteru are three: Amun, Re, and Ptah, who have no equals. He whose nature [literally "whose name"] is mysterious, being Amun; Ra is the head, Ptah the body. Their cities on earth, established forever are: Thebes, Heliopolis, and Memphis [stable] for eternity. When a message comes from heaven, it is heard at Heliopolis, it is repeated at Memphis to Ptah, and it is made into a letter written in the letters of Thoth [at Hermopolis] for the city of Amun [Thebes].
A prince of Byblos in the eleventh century B.C.E. told an Egyptian emissary:
All lands did Amun found, and he founded them only after he founded the land of Egypt whence you have come; but technical skill spread from there as far as [this] place where I am.
other: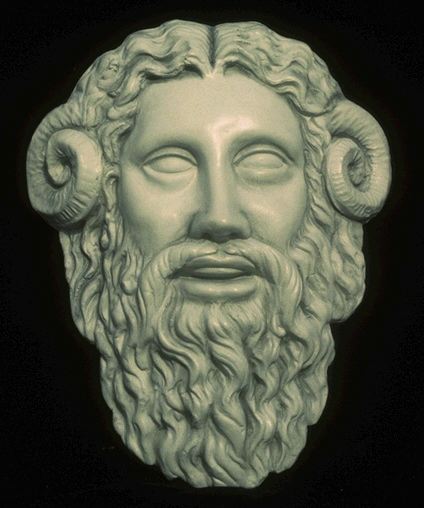 Picture courtesy of JBL Statues
this reproduction was sold by Sacred Source
JBL Statues is now Sacred Source
Ammon — The Egyptian Ram God. According to murals at the ancient temple of Luxor, this fertility god assumed the form of the reigning king in order to procreate, and divinify, the royal lineage. The transformation of horned beast to god reflects the animal's crucial importance in Neolithic herdsman culture. The patron of Thebes, Ammon spoke through oracles and was equated by the Greeks with Zeus. In his name we find the universal sound (amen, amin, aum) whose utterance was holy. This Hellenized mask (c. 100 CE) hangs in the Vatican museum. —picture and text © 1996 JBL Statues (now called Sacred Source), original text created by Tom Laudeman
cornucopia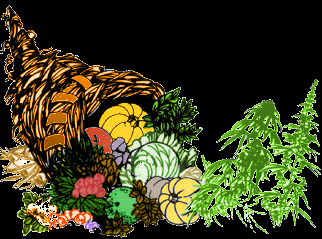 The cornucopia is a horn-shaped container overflowing with fruit, vegetables, and flowers. It is the symbol of fruitfulness, fertility, and plenty. It is from the horn of the goat Amalthaea, which suckled the infant Ammon-Zeus.
Karnak temple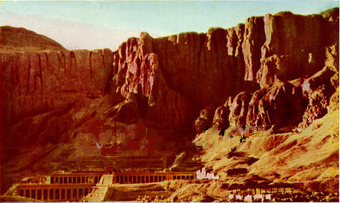 terraced cliff temple to Ammon built by Queen Hatshepsut
religious title certificate

Get a beautiful certificate declaring that you are a priestess, priest, high priestess, high priest, hem, hemet, kher, sesh per ankh, scribe, witch, or shaman of Amon. This is a real religious certificate meeting government standards for conducting marriages and other ceremonies.
pictures:
external links:
If you follow any of the links offered on this web site, no spell begging. Especially no love spell begging.
If you have an Ammon-related web page, please send the URL to Milo. Please indicate if there is a picture on your web page.