The deities of the Persians.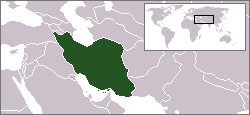 The Persian Empire (located in what is now Iran) has been ruled by ethnic Persians (including the Sassanids, Buwayhids, Samanids, and others) and non-Persians (including the Seleucids, Seljuk Turks, Mongols, Safavids, and others).
The Persians founded three great world religions: Zorostrianism, Mithraism, and Manichaeanism. Persians now live mainly in Iran, Afghanistan, Tajikstan, and Uzbekistan. In Central Asia the Persians are called Tajiks.
deities