Summary: Xochipilli is the Aztec Fertility and Arts God.
names:
name: Xochipilli (Flower Prince), Chicomexochitl (Seven Flower), Macuilixochitl (Five Flower)
(NOTE: In addition to native variations by locality or over time, there are often several possible transliterations into the Roman alphabet used for English.)
basic information:
Xochipilli: Aztec fertility and arts deity
Xochipilli, the "Flower Prince", also known as Chicomexochitl, "Seven Flower" and Macuilixochitl, "Five Flower", is the Aztec deity of fertility, agriculture, maize (corn), flowers, entheogenic plants, art, beauty, writing, painting, dance, song, and games. Xochipilli was the patron of homosexuals and male prostitutes.
herbs associated with Xochipilli:
Tobacco is one of the sacred herbs of Xochipilli, the "Flower Prince".
other: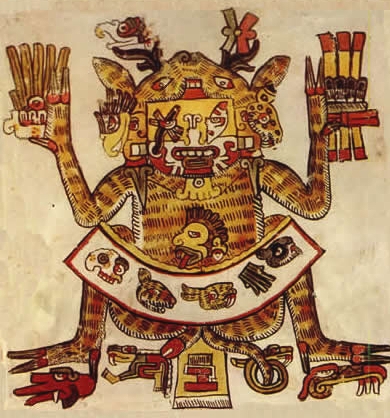 Author unknown, upper left corner of Plate 53 of the Codex Borgia, 15th century.
religious title certificate

Get a beautiful certificate declaring that you are a priestess, priest, high priestess, high priest, witch, or shaman of Xochipilli. This is a real religious certificate meeting government standards for conducting marriages and other ceremonies.
external links:
If you follow any of the links offered on this web site, no spell begging. Especially no love spell begging.
If you have a Xochipilli-related web page, please send the URL to Milo. Please indicate if there is a picture on your web page.