Summary: Gayatri is the Hindu Goddess of the dawn.
names:
Hindu name: Gayatri
(NOTE: In addition to native variations by locality or over time, there are often several possible transliterations into the Roman alphabet used for English.)
basic information:
Gayatri: Goddess of the dawn.
Gayatri's relations:
Second consort of Brahma.
other: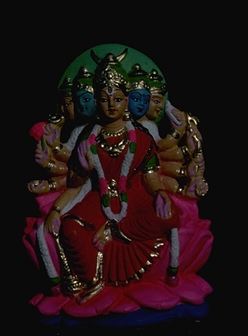 Picture courtesy of JBL Statues
this reproduction was sold by Sacred Source
JBL Statues is now Sacred Source
Gayatri — Goddess of Mantric Power. Second consort of Brahma and goddess of the dawn, Gayatri's mantra is the initiation into Hindu mystical tradition. Chanting these syllables: Aum/ Bhoor, Bhuvah, Svaha/ Tat Savitur Varainyum/Bargo Devasya Dimahi/Dyo Yonaha Prachodiyat deeply from the heart (especially during meditation at dawn and dusk) will bring union with Godhead. Steady practice of Gayatri's magic spell will dissolve the boundary between flesh and spirit. —picture and text © 1996 JBL Statues (now called Sacred Source), original text created by Tom Laudeman
religious title certificate

Get a beautiful certificate declaring that you are a guru, priestess, priest, high priestess, high priest, witch, or shaman of Gayatri. This is a real religious certificate meeting government standards for conducting marriages and other ceremonies.
external links:
If you follow any of the links offered on this web site, no spell begging. Especially no love spell begging.
If you have a Gayatri-related web page, please send the URL to Milo. Please indicate if there is a picture on your web page.