Are there dragons? Every culture in the world has believed in dragons and there are remarkable similarities.
Many paleonthologists (professors who study old stuff, such as dinosaur bones) believe that dragons are a primitive interpretation of dinosaur bones.
But myths of dragons also have the symbolic meaning of the magickal power of women (including the magickal power to give birth and the magickal power to bleed without dying).
The first recorded dragon in literature is Tiamut, the supreme female who gave birth to all of the Babylonian, Assyrian, and Sumerian deities. Tiamut was the watery ocaen of original chaos.
Dragons were associated with the Moon, a feminine archetype because of the obvious connection between the lunar cycle and the menstrual cycle. A common ancient myth involves a dragon swallowing the Moon during a lunar eclipse.
Every Witch woman has the dragon within.
herbs associated with dragons:
examples of dragon pentacles
The following examples of dragon pentacles are from Earth Spirit Emporium. Many of these examples are still available for purchase, but as time passes some will no longer be offered.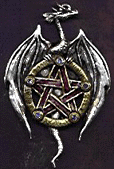 Earth Dragon Pentacle
"Earth Dragon Pentacle: Pentagram's magic and skill clasped secure within Dragon's legendary might manifests protection from betrayal. Produced in pewter, enhanced with Swarovski crystals and/or gold and provided with a chain. 2" x 1 1/2"" — Earth Spirit Emporium (note that products and availability may change over time)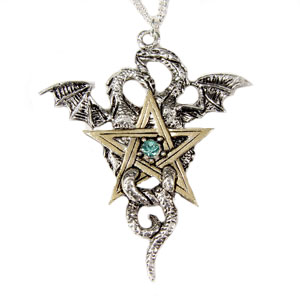 Dragonstar Necklace
"Dragonstar Necklace: Intertwined in perfect harmony the Male and Female Dragons represent the polarity of the Lift Force around the Five Elements of the Magical Pentagram, forming a Talisman for Balance and Stability. Details for Dragonstar Necklace: Size: 1 1/2" Metal: Fine Pewter Enhanced With Gold and Silver Stone: Swarovski Crystal Option: Adjustable Chain Included." — Earth Spirit Emporium (note that products and availability may change over time)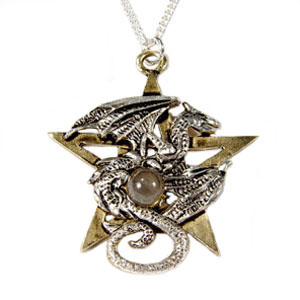 Dracogram Star Necklace
"Dracogram Star Necklace: Clutching its divination ball, the Dragon symbolizes Life Force combined with the magical energy of the Pentagram to form a powerful talisman for Scrying into the Future. Details for Dracogram Star Necklace: Size: 1 1/2" Metal: Fine Pewter Enhanced With Gold and Silver Stone: Swarovski Crystals Option: Adjustable Chain Included." — Earth Spirit Emporium (note that products and availability may change over time)