Bok choy is a vegetable.
botanical information:
Botanical name: Brassica rapa L. ssp. chinensis (L.) Hanelt
Use the botanical name when ordering seeds (bulbs, etc.) or when looking up information in the library. Common names vary by nation, culture, and region, and sometimes the same common name is applied to different plants.
Chinese transliteration common name: baak choi, bai cai, bok choy, paak ts'oi, pak choi, pak choy, pe tsai, pe ts'ai
Danish common name: kinesisk kål
Dutch common name: Chinese kool, pak choy kool
English common name: Asian cabbage, Asiatic cabbage, Chinese cabbage, Chinese chard, Chinese mustard, Chinese mustard cabbage, Chinese white mustard cabbage, celery mustard, non-heading Chinese cabbage, pak choi, white cabbage
Finnish common name: kiinankaali, pinaattikiinankaali
French common name: chou blette de Chine, chou chinois, chou de Chine non pommé, chou pak choi
German (Austrian) common name: schmalblättriger China-kohl
German common name: chinakohl, chinesischer kohl
Italian common name: cavolo Chinese, cavolo di China
Norwegian common name: kinakål
Polish common name: kapusta Chinska
Portuguese common name: couve chinesa, couve de China
Russian common name: kapusta Chinskaja
Spanish common name: col chino, col de China, col de la China
Swedish common name: kinesisk kål, kinesisk pac choi
origin:
Origin: China. The name is derived from the Chinese for "soup spoon", a reference to the plant's rounded leaves.
history:
History: Bok choy was used in Chinese cooking by the fifth century C.E.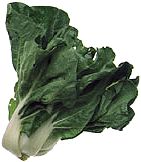 nutritional information:
Nutritional values per 100 grams:
13 Calories
1.5 grams of Protein
0.2 grams of Fat
2 grams of Carbohydrates
rich in fiber
rich in folic acid
rich in iron
rich in Vitamin C
Chinese herbalism:
Chinese gender: yin (cool)
See also: Chinese cabbage