Buckwheat is a grain.
botanical information:
Botanical name: Fagopyrum spp., especially Fagopyrum esculentum
Common name: buckwheat
Use the botanical name when ordering seeds (bulbs, etc.) or when looking up information in the library. Common names vary by nation, culture, and region, and sometimes the same common name is applied to different plants.
See also Chinese herbalism below for Chinese gender and Chinese flavor.



astrological correspondences:
Astrological planet: Jupiter

magickal correspondences and uses:
Gender: feminine (traditional western European magickal gender)
Western element: earth

Magical Uses

Money, Protection



information courtesy of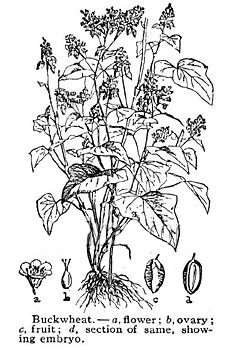 Chinese herbalism:
Chinese gender: neutral
cautions and contraindications:
Non-toxic to animals: The American Society for the Prevention of Cruelty to Animals (ASPCA) Animal Poison Control Center has determined that wild buckwheat "has not been reported as having systemic effects on animals or as having intense effects on the gastrointestinal tract." —ASPCA
See also: whole grains