Chives are a vegetable, the smallest plant of the onion family.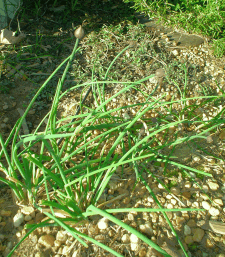 And the Chives are almost blooming as well!
courtesy of Green Earth Ministries
(a Christian cannabis religion)
botanical information:
Botanical name: Allium schoenoprasum
Common name: chives
Use the botanical name when ordering seeds (bulbs, etc.) or when looking up information in the library. Common names vary by nation, culture, and region, and sometimes the same common name is applied to different plants.
Chives are always referenced in the plural because they grow in clumps rather than as individual plants.
origin:
Origin: Europe, Asia, North America — chives are the only member of the Allium (onion) family native to both the Old and the New Worlds.
part used:
Part Used (chive rings): The fresh or dried stem, chopped
Information courtesy of Mountain Rose Herbs
nutritional information:
Chives are a food that helps nourish the kidneys.
Chives are a food that increases sexual energy and enhances fertility.