Money spells help set up the proper circumstances for money to come into your life. They do not make mney grow on trees.
See an example of money spells in the magick section of the article on potato.
money signs
Many money spells call for carving, engraving, or otherwise writing a money sign. This money sign can be a baht sign (Thailand), bolivare sign (Venezuala), cedi sign (Ghana), colone or colón sign (Costa Rica, El Salvador), cruzeiro sign (Brazil), dinar sign (Algeria, Bahrain, Iraq, Jordan, Kuwait, Sudan, Tunisia), dirham (Morocco, United Arab Emirates), dollar sign (American, Australia, Bahamas, Barbados, Bermuda, Canada, Fiji, Hong Kong, Jamaica, New Zealand, Singapore, Taiwan, Trinidad and Tobago, U.S.), dong sign (Vietnam), drachmae or drachma sign (Greece), escudo sign (Portugal), euro sign (European Union), forint sign (Hungary), franc sign (Belgium, France, Switzerland), guilder sign (Dutch, Holland, Netherlands), hryvnia sign (Ukraine), kip sign (Laos), koruny sign (Czech Republic, Slovakia), kroner sign (Denmark, Norway), kronor sign (Sweden), kronur sign (Iceland), krooni (Estonia), kuna sign (Croatia), lkwacha sign (Zambia), ei sign (Romania), leke sign (Albania), leva sign (Bulgaria), lira sign (Italy, San Marino, Turkey, Vatican City), liri sign (Malta), mark sign (Deutche, Germany), markkaa (Finland), naira sign (Nigeria), ounce sign (Palladium), peseta sign (Andorra, Spain), peso sign (Argentina, Chile, Columbia, Dominican Republic, Mexico, Philippines), pound sign (British, Cyprus, Egypt, Ireland, Lebanon, U.K.), rand sign (South Africa), real sign (Brazil), rial sign (Iran, Oman), riel sign (Cambodia), ringgit sign (Malaysia), riyal sign (Qatar, Saudi Arabis), ruble sign (Russia), rupee sign (Bengal, India, Mauritius, Nepal, Pakistan, Sri Lanka), rupiah sign (Indonesia), schilling sign (Austria), shekel or sheqel sign (Israel), shilling sign (Kenya), sole sign (Peru), taka sign (Bangladesh), tolar (Slovenia), won sign (South Korea, North Korea), yen sign (Japan), yuan sign (China), zlotych sign (Poland), or any other monetary sign (ancient or modern). The following chart shows money signs from many different world cultures:

baht sign

Bengal rupee sign

cent sign

colon sign

cruzeiro sign

dollar sign



dong sign

drachma sign

European Union
original ECU sign

euro sign

franc sign

generic money sign

guilder sign

kip sign

lira sign

mil sign

naira sign

peseta sign

peso sign

pound sign

Reichsmark
pfennig sign

riel sign

rupee sign
rupiah sign

shekel sign

tugrik sign

won sign

yen sign

yuan sign
herbs for wealth spells
"We make a living by what we get, but we make a life by what we give."
—Winston Churchhill
examples of pentacles
The following examples of pentacles are from Earth Spirit Emporium. Many of these examples are still available for purchase, but as time passes some will no longer be offered.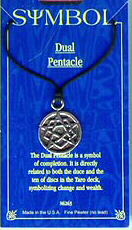 Dual Pentacle Pendant
"Dual Pentacle Pendant: This is a Dual Pentacle Pendant. This is a symbol of completion. It is also directly realted to the deuce and ten of discs in the tarot deck, symbolizing change and wealth. Comes on a nice card explaining the symbol, and is suspended from a 26" black cord that may be used for wearing." — Earth Spirit Emporium (note that products and availability may change over time)