Hazel is a tree.
botanical information:
Botanical name: Corylus spp., Corylus spp. avellana, or Corylus cornuta
Common name: hazel
Use the botanical name when ordering seeds (bulbs, etc.) or when looking up information in the library. Common names vary by nation, culture, and region, and sometimes the same common name is applied to different plants.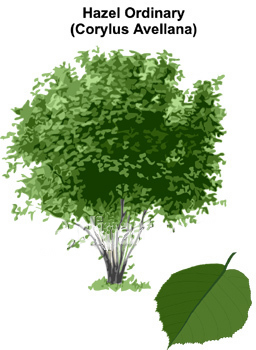 nutritional information:
Hazelnuts are rich in monounsaturated fats, polyunsaturated fats, and antioxidants.
Hazelnuts are a food that increases sexual energy and enhances fertility.
preparation:
You can put a selection of nuts along with a little bit of olive oil into a blender and make fresh nut butter. Nut butter on bread (or in pita pockets) is a healthy "on-the-go" snack.

magickal correspondences and uses:
Hazelnut oil is an excellent base oil for dilluting valuable essential oils. Pour your base oil into the sterilized glass jar. A typical amount is 1/8th of a cup of base oil.
Gender: masculine (traditional western European magickal gender)

Magical Uses

anti-lightning, fertility, luck, protection, wishes



information courtesy of


ritual uses:
Nine Woods: Hazel is one of the nine woods traditionally placed in the traditional Wiccan Witchcraft balefire. From one version of the Wiccan Rede: "Hazel-the tree of wisdom and learning-; Adds its strength to the bright fire burning."
ancient myths and beliefs:
The Hazel Moon or Coll (C) Moon is the ninth month of the Beth-Luis-Nion Celtic (Druidic) calendar, running from August 5 to September 1.
deities associated with hazel:
base or carrier oil:
Base Oil: Hazelnut oil (from Corylus avellana) can be used as a base (or carrier) oil for both aromatherapy and magick.
Aroma: Light; nutty and somewhat sweet.
Texture: Thin; leaves slightly oily film on skin.
Color: Light yellow.
Notes: Excellent choice for those with oiler skin.
health care uses:
Health Notice: Attempting to be an amateur doctor is potentially dangerous to your health. This web page is not professional medical advice. Nothing on this website should be considered as a substitute or replacement for professional medical advice. Persons should seek the advice of qualified health providers. Self-medication should not be used as a substitute for professional medical care. Please confirm all self-medication with your doctor or health care professional. See the article on healing for recommended healers.
external care:
External skin care: Excellent choice for those with oiler skin.
cautions and contraindications:
Cautions and contraindications: Hazel is believed to be safe.
Wild gathering: Avoid wild gathering. Some plants are endangered species. Please grow your own herbs in your own goddess garden.