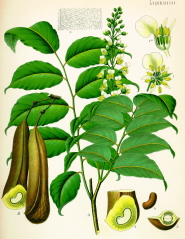 Peru balsam is a tree.
botanical information:
Botanical name: Myroxyron pereirae or Myroxyron balsamum var. pereirae
Common name: balsam of Peru, Peru balsam, (a variety of) tolu balsum
Use the botanical name when ordering seeds (bulbs, etc.) or when looking up information in the library. Common names vary by nation, culture, and region, and sometimes the same common name is applied to different plants.
origin:
Origin: Central America
essential oil:
Essential Oil: Peru balsam essential oil can be used for both aromatherapy and magick.
Method of Extraction: steam distilled (true essential oil)
Color: dark brown
Consistency: very thick
Perfumery Note: base
Strength of Initial Aroma: medium
Aromatic Description: balsamic, earthy, fresh, sweet
Constituents: benzoic acid, cinnamic acid, benzyl cinnamate, cinnamyl cinnamate
Aromatherapy Uses: bronchitis, chapped skin, colds, coughing, eczema, flu, poor circulation, rashes, sensitive skin, stress
Safety Information: Possible sensitization. See also health notes below.
Using essential oils: Essential oils are just too concentrated and too expensve to use without dilution. If you purchase pure essential oil from a source such as Mountain Rose, you will want to place just a drop or two into a neutral carrier vegetable oil or jojoba. This conservation is typical of the use of essential oils in spells and other magick. It is wise to test a bit of any essential oil on your inner wrist before use. If any irritation occurs, do not use the essential oil. Keep essential oils out of reach of children and pets and away from heat and light. See the article on essential oils for detailed information on how to mix and use essential oils.
Health Notice: Attempting to be an amateur doctor is potentially dangerous to your health. This web page is not professional medical advice. Nothing on this website should be considered as a substitute or replacement for professional medical advice. Persons should seek the advice of qualified health providers. Self-medication should not be used as a substitute for professional medical care. Please confirm all self-medication with your doctor or health care professional. See the article on healing for recommended healers.
cautions and contraindications:
Cautions and contraindications: Pepper tree is believed to be safe.
Wild gathering: Avoid wild gathering. Some plants are endangered species. Please grow your own herbs in your own goddess garden (or window boxes).