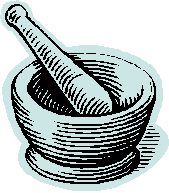 Herbalism is the art and science of growing and preparing herbs for use in medicine, magick, and other related activities.
Herbalism is an important part of both witchcraft and the native ancient Egyptian religion, as well as shamanism and many other pagan religions.
Because of the importance of herbalism, the Pr Ntr Kmt website includes information on herbs.
Some herbs may be poisonious under some conditions. Exercise appropriate care.
Wild gathering: Avoid wild gathering. Some plants are endangered species. Some plants can be toxic just by touch. Even experts can make deadly misidentifications of wild plants. Please grow your own herbs in your own goddess garden (or window boxes).
Magikcal substitutions: Rosemary may be safely substituted for any herb in magick spells and rituals. Roses may safely be substituted for any flower.
You can learn about growing herbs and other plants in the article about Witchcraft gardens.
See also: herbs