Rooibos is a plant and an herb. Also called South African red tea, is is a member of the legume family.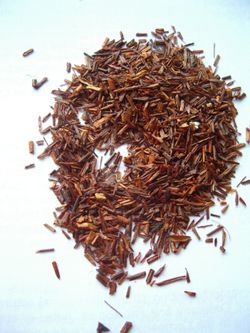 botanical information:
Botanical name: Aspalathus linearis spp.
Common name: rooibos, South African red tea
Afrikaans name: rooibos is Afrikaans for red bush
Use the botanical name when ordering seeds (bulbs, etc.) or when looking up information in the library. Common names vary by nation, culture, and region, and sometimes the same common name is applied to different plants.
origin:
Origin: Rooibos only grows in a small area in the Cederberg region of the Western Cape provicne of South Africa.
magickal correspondences and uses:
Magickal substitutions: Rosemary usually may be safely substituted for any herb in magick spells and rituals. Roses may safely be substituted for any flower.
health care uses:
Health Notice: Attempting to be an amateur doctor is potentially dangerous to your health. This web page is not professional medical advice. Nothing on this website should be considered as a substitute or replacement for professional medical advice. Persons should seek the advice of qualified health providers. Self-medication should not be used as a substitute for professional medical care. Please confirm all self-medication with your doctor or health care professional. See the article on healing for recommended healers.
external care:
External skin care: Rooibos in Greatskin C Serum: "An anti-aging antioxidant for treating skin damage caused by air pollutants. The super antioxidants in rooibos (red tea) from South Africa are 50% stronger than those found in green tea. Whereas Vitamin C-based products excel at repairing skin aging caused by sun damage, red and green tea address pollutants from the air (such as smoke and smog) and erase damage caused by stress. Use Red Tea Extract once a day after C Serum and before moisturizing." Greatskin C Serum
"Age-Defying: Using anti-aging skincare early in life is the key to preserving youthful, radiant skin as you age. In your twenties and thirties,take steps to postpone signs of aging by selecting products that contain the powerful age defying antioxidants Vitamin C, grape seed extract, and green tea. Pentapeptides and glycolics are potent age defyers, too." —GreatSkin
Some herbs may be poisonious under some conditions. Exercise appropriate care.
Wild gathering: Avoid wild gathering. Some plants are endangered species. Some plants can be toxic just by touch. Even experts can make deadly misidentifications of wild plants. Please grow your own herbs in your own goddess garden (or window boxes).
See also: herbs.