Baby's breath is a plant and an herb.
botanical information:
Botanical name: Gypsophila paniculata
Common name: baby's breath, common baby's breath (American name), Common Gypsophila, soap wort (British name)
Use the botanical name when ordering seeds (bulbs, etc.) or when looking up information in the library. Common names vary by nation, culture, and region, and sometimes the same common name is applied to different plants.
Family: Caryophyllaceae
origin:
Origin: eastern Europe
magickal correspondences and uses:
Magickal substitutions: Rosemary usually may be safely substituted for any herb in magick spells and rituals. Roses may safely be substituted for any flower.

Some herbs may be poisonious under some conditions. Exercise appropriate care.
Wild gathering: Avoid wild gathering. Some plants are endangered species. Some plants can be toxic just by touch. Even experts can make deadly misidentifications of wild plants. Please grow your own herbs in your own goddess garden (or window boxes).

planting and growing:
The scientific genus name Gypsophila means "lover of chalk", a reference to the kind of soil preferred by the plant.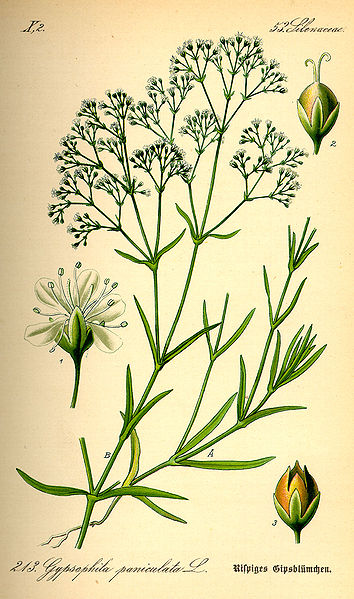 from Flora von Deutschland, Österreich und der Schweiz by Prof. Dr. Otto Wilhelm Thomé, 1885, Gera, Germany
See also: herbs