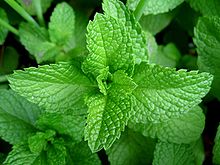 photo by Kham Tran of www.khamtran.com
Mint is an herb. There are many varieties of mint. If not otherwise specified, mint normally means spearmint.
Mint, both spearmint and peppermint, can help reduce appetite and help one eat less to reduce weight on a diet. See Goddess Diet Plan.
The scent of mint is a natural appetite suppresssent. Mint incense or mint scented candles can help control the urge to snack and eat extra. Mint tea and chewing mint gum or raw mint can also help.
Peppermint tea can help a person lose weight when combined with a healthy diet. A peppermint tea fast is a bad idea, no matter how many celebrities try it (Victoria Beckham and Cheryl Cote). Peppermint tea helps the body process foods so as to speed up weight loss when overweight.
botanical information:
Botanical name: varies by variety of mint
Botanical name: SPEARMINT: Mentha spicata
Common name: mint
Use the botanical name when ordering seeds (bulbs, etc.) or when looking up information in the library. Common names vary by nation, culture, and region, and sometimes the same common name is applied to different plants.
mints:

Family: Lamiaceae (mint) or Labiatae (obsolete name for mint family)
Habitat: cool, wet environment and mosit soil in partial shade
Height: 10-120 cm tall
history:
Egyptian History: The ancient Egyptians grew peppermint.
Greek History: The Greeks knew mint as the herb of hospitality. The English word "mint" is derived from the Latin word mentha, which is derived from the Greek word minthe, which is derived from am extinct pre-Greek language of the Indo-European language family.
Roman History: Pliny explained that both the Greeks and the Romans wore peppermint crowns at feasts. Roman chefs adorned tables with peppermint spray and flavored both sauces and wines with peppermint essence.
nutritional information:
Mint, both spearmint and peppermint, can help reduce appetite and help one eat less to reduce weight on a diet. See Goddess Diet Plan>.
storage:
Storage: Eat fresh mint within a week (seven days) of purchase.
astrological correspondences:
Astrological planet: Mercury

magickal correspondences and uses:
Day of the week: Wednesday
Western element: air
Magickal uses: blessing, health, passion, prosperity, revitalization, success
Magickal substitutions: Rosemary usually may be safely substituted for any herb in magick spells and rituals. Roses may safely be substituted for any flower.

Magical Uses

money, luck and travel, healing, strength, love, lust augment power, protection



information courtesy of


ritual uses:
Ritual uses: Associated with the Roman deity Pluto.
Druidic use: Mint, meadowsweet, and vervain are the basic Druidic magickal trio of sacred herbs.
ancient myths and beliefs:
Minthe was a naiad (fresh water nymph) who lived on Mount Minthe, Elis, southern Greece. Hades (Greek) or Pluto (Roman) cheated on his wife Persephone with Minthe. When Persephone confronted Minthe, Minthe claimed to be superior to Persephone and more deserving of Hade's attention. Either Persephone or Demeter (depending on the ancient version of the myth) kicked and stepped on Minthe until the naiad was transformed into the mint plant. Which each additional crushing step the mint plant released a beautiful fragrance. In another variation of the ancient myth, Minthe was crushed into dust and Hades transformed the dust into the mint plant in memory of the nymph.
deities associated with mint:
essential oil:
Mint essential oil is associated with the astrological planet Mercury.
Peppermint essential oil is antiseptic and strongly antiacterial.
Cautions and contraindications: Peppermint essential oil is toxic in high doses. Pregnant women should not eat or handle peppermint. The essential oil can cause abortions.
Using essential oils: Essential oils are just too concentrated and too expensve to use without dilution. If you purchase pure essential oil from a source such as Mountain Rose, you will want to place just a drop or two into a neutral carrier vegetable oil or jojoba. This conservation is typical of the use of essential oils in spells and other magick. It is wise to test a bit of any essential oil on your inner wrist before use. If any irritation occurs, do not use the essential oil. Keep essential oils out of reach of children and pets and away from heat and light. See the article on essential oils for detailed information on how to mix and use essential oils.
health care uses:
Health Notice: Attempting to be an amateur doctor is potentially dangerous to your health. This web page is not professional medical advice. Nothing on this website should be considered as a substitute or replacement for professional medical advice. Persons should seek the advice of qualified health providers. Self-medication should not be used as a substitute for professional medical care. Please confirm all self-medication with your doctor or health care professional. See the article on healing for recommended healers.
medicinal tea:
Medicinal tea: The leaf is prepared in a tea by decoction.
Mint tea can be used to help settle an upset stomach. You can steep the mint from your spice rack in boiling water to make mint tea. For added healing power, you can add ginger.Add about a teaspoon of ground ginger to mint or chamomile tea (some ginger may settle on the bottom of the cup, this is not a problem). Of course, if it is a symptom of a serious problem you should see a medical professional.
Master Cleanse Diet Peppermint tea is suggested with the Master Cleanser Lemonade Diet. The Master Cleanse Diet uses a strict regiment of distilled water, fresh squeezed organic lemons or limes, formaldehyde-free organic maple syrup, and cayenne pepper (see below for exact recommended ratios), along with herbal teas that have a laxative effect. Peppermint tea has no laxative effect, but can help make the laxative herbal teas easier to stomach. Mint tea (spearmint or peppermint) also contributes to the Master Cleanser Diet because the chlorophyll that naturally occurs in mint tea acts as a purifier, as you will notice by its ability to cleanse your breath.
Two (2) tablespoons lemon or lime juice (approx 1/2 lemon)
Two (2) tablespoons maple syrup, Grade B
Tenth (1/10th) teaspoon cayenne pepper
Eight (8) ounces distilled water
Please note that TeenWitch is not recommending in favor of the use of the Master Cleanser Lemonnade Diet, but simply reporting on the benefits of mint tea if you decide to use the diet. The Master Cleanser Lemonade Diet is an extreme diet and Teen Witch normally recommends against extreme diets without a doctor's advice. A healthy adult or teenager should be able to handle this extreme diet for a short period. If you decide to use this diet, please carefully read the many warnings that appear in the books.
Teen Witch has a much more gentle and nutritionally sound diet plan at Goddess Diet Plan.
cautions and contraindications:
Cautions and contraindications: Peppermint essential oil is toxic in high doses.
Pregnancy: Pregnant women should not eat or handle peppermint. The essential oil can cause abortions.
planting and growing:
Partial Shade: Two (2) to Six (6) hours of sunlight a day.
Growing chocolate or orange mint plants can add a pleasant fragrance to an indoor container Witch garden.
Orange bergamot (with purple and bronze tinged leaves), ginger mint (with gold splashed leaves), and pineapple mint (with cream edged leaves) can add color to your Witch garden.
mints: