Wild rice is a grain.
botanical information:
Botanical name: Zizania spp., including Zizania aquatica (wild rice), Zizania latifolia (Machurian wild rice), Zizania palustris (northern wild rice), and Zizania texana (Texas wild rice)
Common name: Canada rice, Indian rice, water oats, wild rice
Ojibwa name: manoomin (meaning "good berry")
Use the botanical name when ordering seeds (bulbs, etc.) or when looking up information in the library. Common names vary by nation, culture, and region, and sometimes the same common name is applied to different plants.
Family: Poaceae (grasses)
Habitat: shallow waters of small lakes and slow-flowing streams
origin:
Origin: Three of the species are native to North America and one is native to Asia.
Zizania aquatica: St. Lawrence River, Atlantic coast of U.S., and Gulf coast of U.S.
Zizania latifolia: China
Zizania palustris: Great Lakes region
Zizania texana: San Marcos River, Texas
history:
History: Native Americans harvested wild rice by standing in canoes and brushing the plants with wooden knockers. Several Native American nations, including the Ojibwa, consider wild rice to be a sacred plant.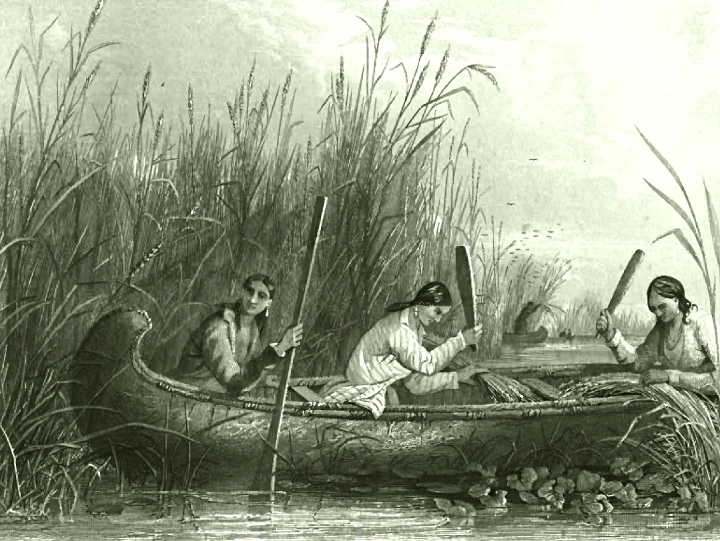 19th Century tribal women harvesting wild rice in the traditional manner.
From The American Aboriginal Portfolio, by Mrs. Mary H. Eastman. Illustrated by S. Eastman. Philadelphia: Lippincott, Grambo & Co. 1853.
nutritional information:
The wild rice most commonly used as food is Zizania palustris.
The Goddess Diet Plan recommends at at least one serving of wild rice per month, taking in account the season and local availability.
Wild rice is an alkaline-producing food (measured by the ash content resulting from laboratory titration).
Wild rice is a good source of protein.
Wild rice is a source of iron.
nutritional value per 100 g (3.5 oz) cooked wild rice:
Energy (Calories): 101 kcal or 423 kJ
Water: 73.93 grams
Proteins: 3.99 grams
Fat: 0.34 grams
Cholesterol: 0 milligrams
Carbohydrates: 21.34 grams
Sugars: 0.73 grams
Dietary Fiber: 1.8 grams
See also: white rice, brown rice, and whole grains.