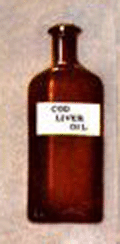 Cod liver oil is derived from cod fish and therefore an animal product.
nutritional information:
Cod liver oil is an abundant source of Vitamin A.
Icelandic cod is among the safest fish in the world to eat because of the low level of toxins and heavy metals (such as mercury).
Fish is one of the best sources of protein.
See also Chinese herbalism below for Chinese gender and Chinese flavor.
cooking information:
If you eat fish, soak the fish in a mixture of apple cider vinegar and water before cooking. This will give the fish a sweeter taste and make the fish more tender.

Chinese herbalism:
Chinese gender: neutral
Chinese flavor: saltwater fish are sweet and slightly salty
See also: fish