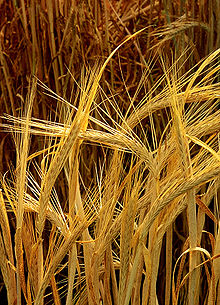 Hordeum-barley
United States Department of Agriculture
Pearl barley is a ceral grain.
The Goddess Diet Plan recommends you eat at least one serving of barley per month, taking in account the season and local availability.
botanical information:
Botanical name: Hordeum spp. The original wild species is Hordeum vulgare subsp. spontaneum.
Common name: barley, pearl barley
ancient Egyptian name: it (pronounced similar to eat)

or

Use the botanical name when ordering seeds (bulbs, etc.) or when looking up information in the library. Common names vary by nation, culture, and region, and sometimes the same common name is applied to different plants.
The English word barley comes from the Old English word bærlic, meaning "barley-like". According to the Oxford English Dictionary, the oldest surviving written use of the word bærlic was approximately 966 C.E. as part of the word bærlic-croft. The Old English noun form was bære and is related to the Latin word farina, meaning "flour". It is also related to the English word barn, which originally meant a "barley-house".
Family: Poaceae (grasses)

origin:
Origin: North Africa, Crete, Mesopotamia, Near East, central Asia, India, Tibet
history:
History: Barley was first domesticated around 8500 B.C.E. in the Near East. The common diet of Thessaly in the Aceramic Neolithic period (around 6500 B.C.E.) was barley, cattle, oats, and wheat, supplemented by acorns, peas, lentils, peas, pistachios, vetch, and wild olives. The common diet of Crete in the Aceramic Neolithic period was barley, cattle, goat, lentils, pig, sheep, and wheat.
Egypt: Barley was popular in ancient Egypt, where it was used to make bread and to make barley beer sweetened with honey. Barley beer is likely to have been the first alcoholic beverage humans made.
part used:
Part Used: Barley Grass. Hordeum vulgare The dried shoots, powdered. In traditional Chinese medicine, the barley grass may be "massed" or fermented before drying.
Information courtesy of Mountain Rose Herbs

nutritional information:
The Goddess Diet Plan recommends you eat at least one serving of barley per month, taking in account the season and local availability.
Persons with celiac disease (glutten-intolerant) should avoid wheat, rye, and barley.
Dr. Hagiwara claims that the green juice from the young leaves of barley greass is the most active phytonutrient-rich food in the world.
Barley is a good source of protein.
Barley is a food that helps nourish the kidneys.
See also Chinese herbalism below for Chinese gender and Chinese flavor.

astrological correspondences:
Astrological planet: Venus

magickal correspondences and uses:
Gender: feminine (traditional western European magickal gender)
Western element: earth
Magickal uses: good health, luck, prosperity
Magick food for love spells: Barley and recipes using barley are appropriate food for love spells, such as the Aphrodite New Moon love spell, Hecate black candle love spell, or Isis Full Moon love spell. See the article on foods for more information on using food magick in spells.
Magickal substitutions: Rosemary usually may be safely substituted for any herb in magick spells and rituals. Roses may safely be substituted for any flower.
Barley is used for alphitomancy, a divination method for determining if someone is lying.

Magical Uses

Love, Healing, Protection



information courtesy of


ritual uses:
Ritual: The Full Moon in September was sometimes called the Barley Moon. Witches would perform a ritual to the Goddess of the Witches involving small ceremonial barley cakes.
deities associated with barley:
Asar (or Osiris) is the original god of barley brewing. The Roman god Bacchus and the Greek god Dionysus inherited this role in the Greco-Roman world.
Chinese herbalism:
Chinese gender: pearl barley is yin (cool)
Chinese flavor: pearl barley is bland and slightly sweet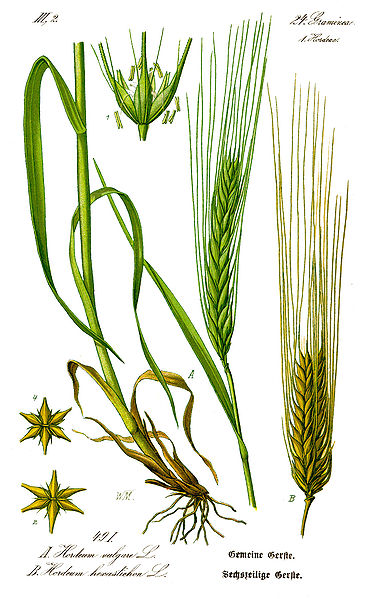 Hordeum vulgare
Flora von Deutschland, Österreich und der Schweiz, Prof. Dr. Otto Wilhelm Thomé, 1885, Gera, Germany
See also: whole grains